Johann Dietsch

Sendlingergasse 16, Oberanger 55, Sendlingerstraße 17 & 26, Munich, Bavaria
Zinngießerermeister / Master Pewterer
Johann Dietsch was born in 1828, the son of the pewterer Andreas Dietsch in Reichertshofen (near Ingolstadt). He assumed leadership, in 1865, of the "Wolfmüllersche Zinngiessergerechtsame", and he became a member of the association of pewterers in 1866. By 1874, Johann Dietsch was located at Sendlingergasse 16, 2nd floor. By 1885/1886 he had moved to Oberanger 55. During 1887-1890, he was at Sendlingerstraße 17, and between 1891 and 1901 he moved to Sendlingerstrasse 26. His private address was Sendlingerstraße 65, 2nd floor, was listed in 1901 only. By 1903 he was no longer listed. Heinrich Dietsch must have been a close relation (nephew or younger brother?) because both companies were located close to each other throughout their existences.
Purchased stein bodies from: ?
Reference: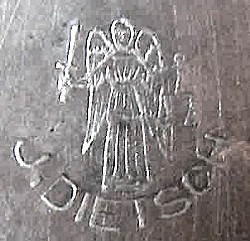 Impressed mark on underside of a pewter stein lid. The angel indicates lead free or "pure" pewter.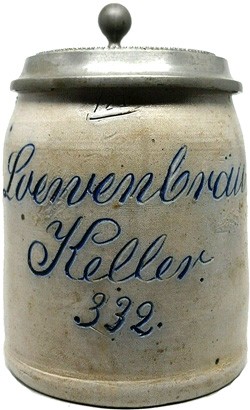 Turned Regensberg 1/2 litre stein supplied to the Lowenbräu Bier Keller. Designated no. 332.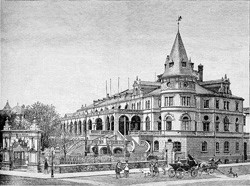 Löwenbräukeller, Maxvorstadt, Munich. Circa 1888.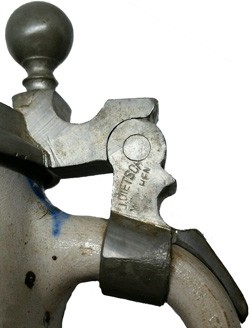 'J. Dietsch, München" stamped on the hinge assembly of the featured stein.