Heinrich Dietsch

Sendlingerstraße 68,
Oberanger 1,
Dultstraße
,
Sendlingerstra
ß
e 11,
Munich. Bavaria.
Zinngießerei / Pewterer

Heinrich Dietsch was first recorded in Sendlingerstraße 68, in 1885/86. The previous address book was 1874 so he could have started his business in the intervening years. By 1887, he had moved to Oberanger 1. Between 1888 and 1893, Heinrich had retired, because Heinrich Dietsch Junior was running the company. The next record shows Heinrich Junior in 1900 at the Deiglmayrhaus in Dultstraße. By 1910 the younger Heinrich had dropped the title "Junior" suggesting his father had died. He is recorded at this address until 1918. The next record is 1926 when the company is at Sendlingerstra
ß
e 11 (ground floor) and run by Marie Dietsch. 1929 finds them at the same address, but by 1935 the company had disappeared. Johann Dietsch must have been a close relation (uncle or older brother?) because both companies moved close to each other throughout their existence.
Purchased stein bodies from:
Reference: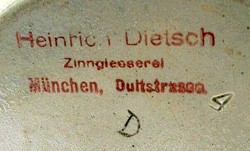 Ink stamp base mark on above stein, dated 1900 - 1914.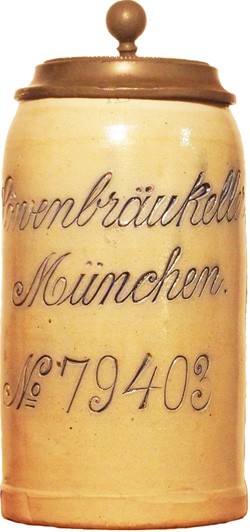 I litre "turned" stoneware stein "Löwenbräukeller / München / No.79403"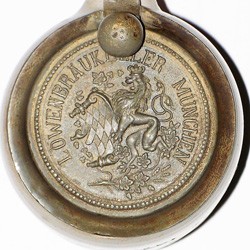 Lid top of the featured stein, centre.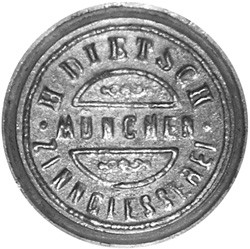 Cast pewterer's mark on the underside of the lid of the featured stein, centre.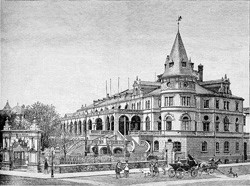 Löwenbräukeller, Maxvorstadt, Munich. Circa 1888. Click to enlarge.