Albert Pick & Company
Randolph Street, then 2225 West Pershing Road, Chicago, Illinois. United States
Importeur / Importer
Purchased stein bodies from: Villeroy & Boch - Mettlach, Thuemler Manufacturing Co.
Founded in Randolph Street in 1857 by Albert Pick and his younger brother Charles. The business was destroyed by the Great Chicago Fire in 1871. It was rebuilt with Charles taking over the company by 1874. In 1892, Albert's son, Albert Jnr. (b.1895) assumed control of the business. In 1926 the business was purchased by a banker's partnership and was then renamed Albert Pick & Co. Inc. This allowed Albert and other members of the Pick family to concentrate on their chain of seven hotels. This grew to the 3rd largest hotel group in the U.S. but went out of business in the 1960's, and Albert died in 1977.
Reference: Accuracy Project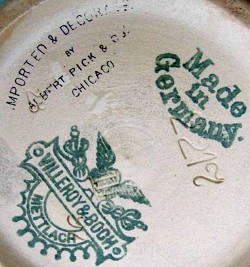 Ink Stamp on Villeroy & Boch - Mettlach #2217 (Elk Tankard) dated 1897.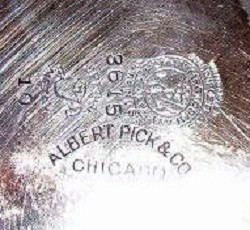 Silver lid on Villeroy & Boch - Mettlach #2217 (Elk Tankard) dated 1897.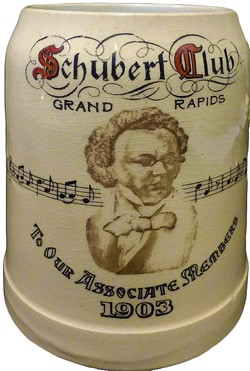 " Schubert Club - To our associate member, 1903", manufactured by the Thuemler Manufacturing Co.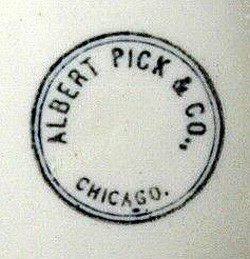 Ink stamp on featured stein, dated 1903.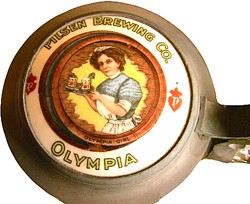 "Pilsen Brewing Co. Olympia".Pewter lid with ceramic insert on glass stein.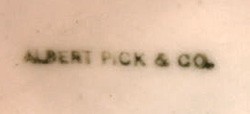 Ink stamp on the underside on the lid above.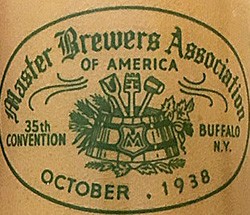 35th Convention in Buffalo, N.Y. of the Master Brewers Association, dated Oct. 1938.Manufacturer unknown.

Basemark on the Master Brewers Association stein, dated Oct 1938.