M.S. Kuznetsov
Hersteller / Manufacturer

Brothers Kuznetsov at Novo-Kharitonovo S.E Moscow Oblast, was originally founded in 1810. The Kuznetsov Porcelain Factory in Riga was founded in 1841 by S.T. Kuznetsov. Riga`s factory originally produced halffaience, and porcelain was added from 1851. After Sidor Kuznetsov's death in 1864, the business was inherited by his son Matvey Kuznetsov. In 1872 Matvey Kuznetsov changed the company name to the M. S. Kuznetsov company. In 1887 he changed the name of the company again to: "M. S. Kuznetsov Public Porcelain Factory". In 1889 the business absorbed factories in Dulevo, Novgorod and Verbilkos. In 1887 Matvey again changed the company name to Public M. S. Kuznetsov porcelain and faience factory. In 1892 M S Kuznetsov purchased the the well-established Francis Gardner Porcelain Factory. In 1908 Riga manufactured more than 22.3 million ceramic products, 11.4 million were porcelain, 3.7 million faience and 7.1 million halffaiance dishes. In 1913 at Riga`s factory employed 2,650 people. By the early twentieth century Kuznetsov had taken over many smaller factories and was soon responsible for almost two-thirds of pottery and porcelain output in the Russian Empire. They produced goods of such fine quality that in 1902 the owner was bestowed the title of court-purveyor to the Czar. In 1915, much of the production equipment was transferred to Russia, but by the 1920's the factory had increased manufacturing, and from 1922 it belonged to the joint-stock company M. S. Kuznetsov. In 1932, part of the Kuznetsov stock was sold to Martins Kalnins and he was elected as a joint stock M.S. Kuznetsov company Chairman. In 1940 the factory was nationalized and renamed Riga Ceramics Factory. in 1963 the name changed to Riga Porcelain and Faience Factory. in 1968 it reverted to the Riga Porcelain Factory.
Reference: Russian Porcelain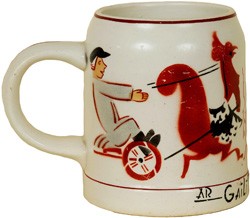 M.S. Kuznetsov, Riga, Latvia, date circa 1937. ×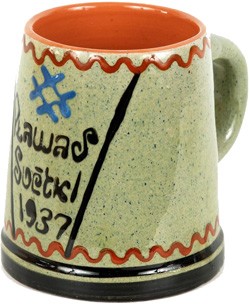 Tankard attributed to M.S. Kuznetsov Riga, Latvia. Dated 1937.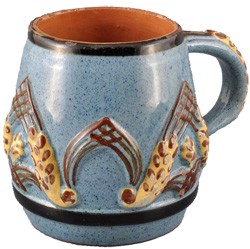 M.S. Kuznetsov, Riga, Latvia, date circa 1937.