Johann Wanzenried

(
Kunsttöpferei Loder & Schweizer
) (
Kunsttöpferei Adolf Schweizer)
Steffisburg, Municipality of Thun (German) Thoune (French) near Berne. Switzerland.
Kunst-Töpferei / Art Pottery.
Johannes Wanzenried (b.1800 - d.1872) married Elisabeth, neé Grossglauser (b.1806 - d.1840) Her father had a "Stampfe" Grinder and a "Bleiglättemühle" Polishing Mill, both used in the preparation of powdered lead ceramic glazes. Johannes inherited his father in law's enamelling and glazing workshop in Thoune. After the death of his first wife in 1840, he married again in 1842. His second wife, Elisabeth née Wyttenbach (b.1820 - d.1894), was the daughter of the potter Christian Wyttenbach.


They had a son, named Johann Wanzenried, who was born on the 8th October 1847. He attended Primary & Secondary in Steffisburg and then "Institute Reymond" in Ecublens. He was accepted into the Polytechnic in Zurich and did well for the first three years, although he failed to attend the third year's final quarter's examination due to sickness. In the fourth year which was 1869/70, he only managed to complete one semester, with a limited syllabus and even then achieved poor results. This illness he was to suffer from for the next 26 years until his death, produced deteriorating mental faculties over that period. A possible cause for this mental breakdown could well have been the use of powdered lead in the glazes they used in this area. At the same time, his father, Johannes wanted to retire and transferred his family home, together with the barn, workshops and plant to his sole surviving son Johann, during 1868, despite Johann being underage. Johann became responsible for the family business, when his father died in 1872. He married Maria Luisa née Ingold (b.1849 -d.1929) in 1873.
He began to expand the workshop into a full ceramics manufactory. Over the next five years he added a clay particle size grader, a drying shed and firing ovens, plus more equipment to produce glazes. His raw clay items were moulded to ensure reliable production, rather than turned on a potters wheel. As the founding year of the manufactory he used the year 1878.
In this year he took on an apprentice, Friedrich Ernst Frank (b.1862) aged sixteen, as a trainee ceramic's decorator. In order to develop his talent, between 1887 and 1888 Wanzenried sent him to the k.k. Fachschule für Keramik (Imperial & Royal School for Ceramics) in Znaim, Moravia (now Znojmo, Czech Republic). When Frank returned, he worked for the Wanzenried business for the next 33 years, until his death on the 23rd March 1920.
All the investment had sent the company into debt, so on the 12th November 1879, they took out a bank loan for 38,000 Swiss francs, with 9 guarantors. However due to the trading situation, the guarantors were forced to take ownership of the company on the 24th October 1880, together with all the debts. However Marie Luise Wanzenreid, by the 18th October 1886 had generated enough income to buy back the company, which was then put in her name. From 1892 Johann was placed in an asylum, where he died on the 16th December 1895.
Johann and Marie Luise had brought up two daughters who were unable to take over the business, so in 1912 Marie Luise decided to sell the company to a merchant from Berne, Emil Lengacher (b.27/12/1886). He marketed the company vigorously, entering the Wettbewerb für Reise- und Ausstellungsandenken Schweizerische Landesausstellung Bern 1914, a competition for travel and exhibition souvenirs, plus other exhibitions. He also won a gold medal at the Schweizerische Landesausstellung 1914" (Swiss National Exhibition) in Berne. In spite of this, he seems to have enjoyed little commercial success. So when he died, aged 28, on the 30th December 1914, he had not fully paid for the company. Marie Luise therefore purchased back the business and ran it until the end of WW.1
On the 11th December 1918 she sold the company to Emil Loder and Adolf Schweizer, two young people who had received training and some education at the Wanzenried company. They traded under the name "Kunsttöpferei Loder & Schweizer" and their trade mark was an intertwined "LS". From 1923 Adolf Schweizer was the sole proprietor, trading under the name "Kunsttöpferei Adolf Schweizer" and whose trade mark was an intertwined "AS". Meanwhile Emil Loder had founded his own pottery studio in 1924 in Malters, canton of Lucerne, Switzerland. Adolf Schweizer was probably in production until the early 1960's.


Reference: Palladium Biblio.Unibe.CH Museumek.EU Opac.Nebis.CH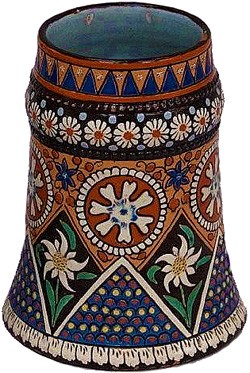 A nice pair of steins by Johann Wanzenried.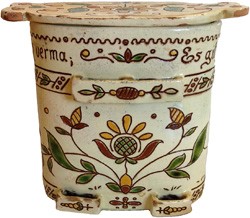 The reverse side of the Milch Bränte (Tause) showing the built in loops which locate the shoulder straps, which enabled it to be carried as a backpack. .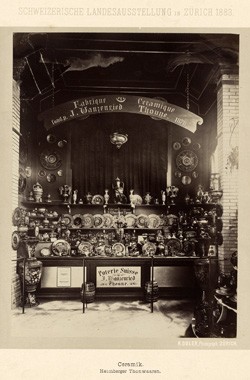 Courtesy of Zentralbibliothek Zürich, Graphische Sammlung und Fotoarchiv. "Click picture to enlarge".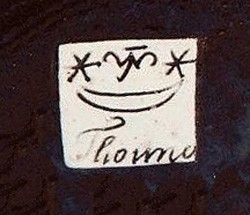 Virtually identical signatures, intertwined "JW"s, on the pair of steins, shown on left and right.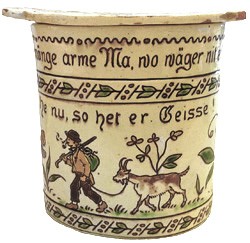 This vessel is a miniature pottery representation of a Milch Bränte (Tause), which was a backpack, originally made of wood, but later of steel, with a capacity of 10 - 15 litres for the transportation of milk in mountainous areas of Switzerland. Swiss German, " Es git gar mänge arme Ma, wo wäger nit e Chueh verma; he nu, so het er Geisse! " High German, "Es gibt gar manchen armen Mann, der nicht einmal eine Kuh vermag, he nun, so hat er Ziegen!" English, "There are many poor men who cannot afford a cow, so they have goats!"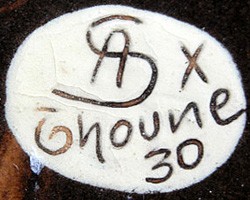 Adolf Schweizer intertwined "AS" mark dated post 1923.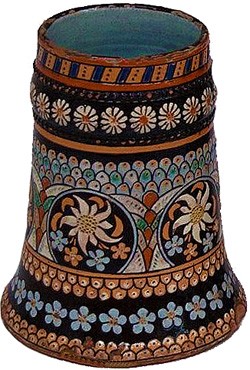 A nice pair of steins by Johann Wanzenried.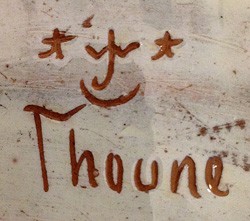 Intertwined "JW" base mark on the Milch Bränte (Tause) for Johann Wanzenried, with the French spelling of the municipality of Thoune.

Mark dated between 1918/19 and 1923.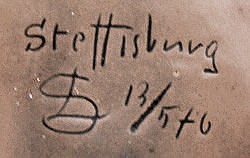 Loder and Schweizer intertwined "LS" mark dated between 1918/19 and 1923.