Chittenango Pottery Company
Pottery Road, Chittenango, New York State. United States.
Hersteller / Manufacturer
The works of the Chittenango Pottery Company were established at the Landing on Chittenango Creek, in 1897 by Heber & Edwin Lewis and John Logan. After being twice destroyed by fire, the present brick structures were erected around 1898/99. The company closed initially in 1904. In 1906 and again in the 1920's there were attempts to reopen the factory, but neither were successful.
Steins were designed by William Downs.
Manning Bowman were known to have lidded steins for the Chittenango Pottery Co.
Reference: Wikipedia Ron Fox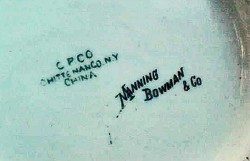 Featured stein showing Chittenango mark underglaze, with Manning Bowman mark overglaze added at lidding, prior to sale by Manning Bowman.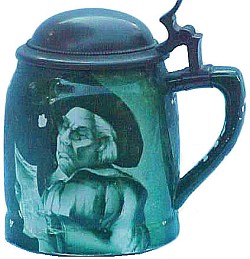 "Man reading Madison County Times newspaper". Stein is by Chittenango Pottery Co. Note the unique method of attaching the pewter work to the handle, together with the thumbpull which denotes a Manning Bowman lid.