William Purcell McDonald
Cincinnati, Ohio, United States.
Künstler / Decorator
Born in Cincinnati on the 18th September 1864, he studied at the McMicken School of Design and Cincinnati Art Academy, including classes run by Frank Duveneck, who was considered to be the style authority of the time.. He joined the staff of the Rookwood Pottery Company in 1882. He was encouraged to study further, both in France and Italy, on a trip paid by Rookwood. After taking charge of the Decorating Dept in 1899, he was placed in charge of the Architectural Faience Department in 1904. He became a member of the Cinncinati Art Club. McDonald remained a leading decorator at Rookwood until his death on 9th July 1931.
Reference: Live Auctioneers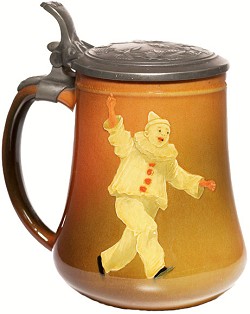 Rookwood Standard Glaze. One of a range of clown steins, dated 1894, complete with an "in house" manufactured lid.