Rookwood Pottery Company
Mount Adams, Cincinnati, Ohio, United States
Kunst-Töpferei / Art Pottery.
Founded by Maria Longworth Nichols in 1880. Managed by William Watts Taylor 1883 - 1913. The pottery enjoyed prosperous times up to and through the 1920's, but was
hit hard by the Great Depression. In 1934 it made its first trading loss and in 1941, filed for bankruptcy. Limited production continued, but in 1959 the company was
purchased by the Herschede Clock Company and production moved to Starkville, Mississippi. Unable to recover from the losses, production ceased in 1967.
Michigan dentist, art pottery collector and Rookwood enthusiast, Dr. Arthur Townley purchased the company in 1982, then resold it to another Rookwood enthusiast,
Christopher Rose who in 2006, brought it back to Cincinnati. It is still trading today.
Initially, all the pottery executed by Maria Longworth Nichols and her friends were individual unique studio pieces. William Watts Taylor introduced a more structured production process by involving a large number of artists whose works were characterized by slip-painting, resulting in low relief, together with glazes in a variety of colours. The artists themselves slip-painted moulded bodies using atomized sprayers with different colours of slip. While it was common to work from a stock illustration, each piece is unavoidably unique. The most popular glaze, referred to as their "standard glaze", was a dark greenish brown which was applied in a gradient, often shading from a light gold or yellow to dark brown, as shown below. This glaze was very suitable for depictions of fruit, berries, plants and other organic themes. At a later stage they turned to less artistic works, often monotone coloration, more mass production oriented. Lidded steins were only made around the 1890's. Whilst mugs which were never intended to be lidded are reasonably common among their works, Rookwood operated a small "in house" pewter works between 1894 and 1897, and a small number of steins were actually lidded there.
Villeroy & Boch - Mettlach produced a range of steins which emulated the style of glaze, but majored on portraits, whereas Rookwood portraits are relatively rare.

Among many others, these following artists and glazers were employed by Rookwood Pottery:
Artus van Briggle Daniel Cook Matthew Andrew "Matt" Daly Edith Regina Felton Robert Bruce Horsfall Margaret McDonald William Purcell McDonald
Sturgis Laurence Mary Madeline Nourse Kataro Shirayamadani Sarah "Sallie" Alice Toohey Grace Young
Reference: Walt Vogdes Wikipedia Rookwood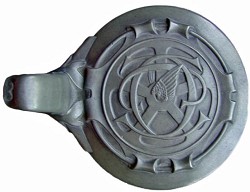 Top view of custom pewter lid designed for this featured celebratory stein.
Inscription on the underside of the lid of the featured stein. "To Julius Dexter of the Commercial Club of Cincinnati. From W.W. Taylor, President 1894." Whilst the celebration was held in 1895, it was for the members of 1894.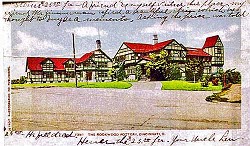 Postcard - The Rookwood Pottery. Cincinnati. Ohio. "Steins $25 per - A friend and myself visited this place. My friend Mr. Zimmerman spied a beautiful stein which he thought to buy as a memento, asking the price he was told $25.00 - he fell dead. Hence the $25.00 per. Your Uncle Lew." Click to enlarge.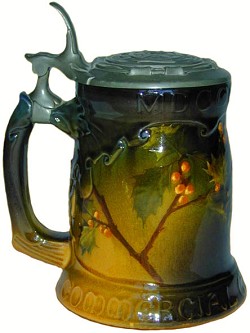 This stein, (mould #783), in the standard glaze, was presented in 1895, to Julius Dexter, a member of the Commercial Club of Cinncinati, shown by text around the base. The date of 1894 is also around the stein below the lid in Roman numerals, (MDCCCXCIV). Since the club had fifty members, there were only fifty examples presented. They were each hand-painted by a different artist, and therefore were all unique. This particular example was decorated by Mary Madeline Nourse.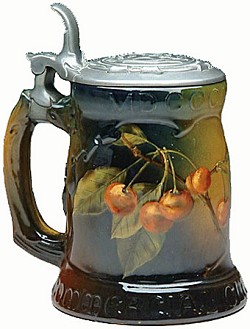 Another example of the same stein (mould #783), again in the standard glaze and presented to Howard Hinkle, a member of the Commercial Club of Cinncinati, showing an alternate decoration, by Margaret McDonald.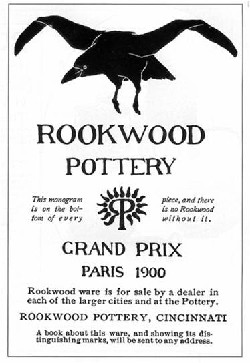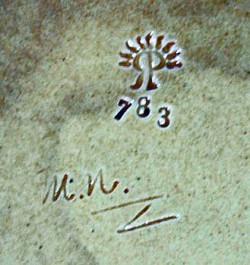 N.B. The reverse "R" adjoined to "P", surrounded by flames, denoting Rookwood Pottery, and in this case on the featured stein, mould #783. Beneath is the signature of Mary Madeline Nourse. To date the piece, count the number of flames crowning the RP logo. From 1886 to 1900, a new flame was added until there were a maximum of 14 flames around the RP in 1900; (ensure that you do not include the diagonal of the R). In this example above, there are nine flames, indicating 1895 as the year of manufacture. If there are Roman numerals under the RP logo crowned by 14 flames, then these date the pottery from 1901 until 1967. Therefore the mark below indicates a manufacture date of 1903.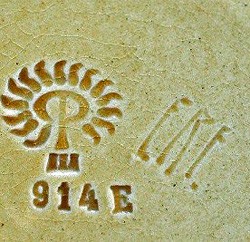 N.B. The reverse "R" adjoined to "P", denoting Rookwood Pottery, mould #914E. Next to the manufacturer's mark is the signature of Edith Regina Felton.