Mary Madeline Nourse
Cincinnati, Ohio, United States.
Künstler / Decorator
Known dates: Born in Mt. Healthy near Cincinnati in 1870. Died Fort Thomas near Cincinnati in 1959.
Employed by Rookwood Pottery 1891 - 1905
Reference: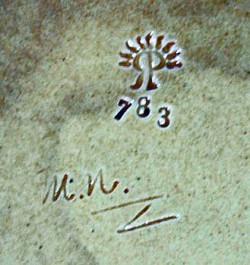 N.B. The reverse "R" adjoined to "P", surrounded by flames, denoting Rookwood Pottery, and in this case on the featured stein, mould #783. Beneath is the signature of Mary Madeline Nourse.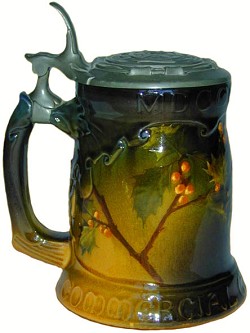 This stein, (mould #783) was presented in 1895, to Julius Dexter, a member of the Commercial Club of Cinncinati, shown by text around the base. The date of 1894 is also around the stein below the lid in Roman numerals, (MDCCCXCIV). Since the club had fifty members, there were only fifty examples presented. They were each hand-painted by a different artist, and therefore were all unique. This particular example was decorated by Mary Madeline Nourse.