(Frederick) Sturgis Laurence


Cincinnati, Ohio, United States.
Künstler / Decorator
Known dates : Born 18**. Died 19**.
Employed by: Rookwood Pottery 1895 - 1904
In 1900, he offered illustrated lectures on Rookwood pottery.
He was put in charge of the Rookwood's New York office in 1904.
Reference: Walt Vogdes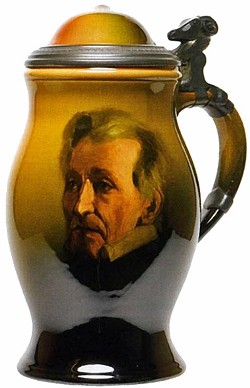 Rookwood Standard Glaze. Lidded Stein. Portrait of Andrew Jackson "Old Hickory". Dated 1896.