Oswald Lorenz / Fabrik Dresdner Bierseidel
Lorenz & Co. (vorm. Oswald Lorenz)

kleine Plauenschegasse
48
,
Pirnaischestra
ß
e
50,
kleine
Plauensche
stra
ß
e 30,
Herbertstra
ß
e 7, Löbtauerstraße Dresden, Saxony.

Bierseidel und
Krüge
Einzelhandel. / Beer steins and jugs retailer

In 1872 and 1873 there was a Gustav Albin Oswald Lorenz mentioned in the Dresden address books as a private individual. Between 1874 until 1878, he worked as a book keeper. In 1880 he founded the commissions business "Oswald Lorenz" at kleine Plauenschegasse 48 (This area is now totally redeveloped). In 1883 he added a porcelain decorating shop. By the 4th March 1888 he had moved to Pirnaischestraße 50. In the same year he discontinued the commissions business, but continuing the porcelain decorating, he founded the "Fabrik Dresdner Bierseidel". On February 17, 1889 the advert states "Lorenz & Co." (vorm. Osw. Lorenz), so just before this Oswald Lorenz had died. The company then became "Lorenz & Co." because his widow Marg. (Margarethe?) née Langer, took on a partner Paul A. Teetzmann as co-proprietor. The company moved to kleine Plauenschestraße 30, at the same time. By 1894, Paul A. Teetzmann was sole proprietor of "Fabrik Dresdner Bierseidel Lorenz & Co.". Marg. had either sold the company and left Dresden or she had died, because she was not further mentioned in the Dresden Address book(s). Paul A. Teetzmann ran the company until 1926/1927. In 1927/1928 the company belonged to his heirs. From 1929 the company was run by B.J. Gliebine and Elisabeth, Teetzmann's widow. Their last entries for the address book, and the register of trade were in 1938 .
The Lorenz & Co. entry in the "Katalog der Keramischen Ausstellung" of 1891, published by the "Gewerbe-Verein zu Dresden" states the following:
"Dresdner Bierseidel und Krüge mit abnehmbarem Deckel......"
"Dresden beer steins and jugs with removable lid......"
" Den Deckel kann Jedes durch Lösung einer Schraube abnehmen und auf ein Ersatzseidel befestigen"

"Anybody may remove the lid by undoing a screw and fix on an alternative lid".

This related to glass steins as well as the featured Merkelbach & Wick steins, which were probably special items supplied only to Lorenz & Co.
The glass steins, employing the same method of hinge fitment, came from other suppliers, presumably Sachsenglass.
Reference:
Slub-Dresden Page 30, Dresden Adressbuch Saxony Address books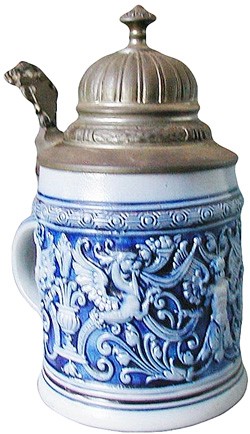 Merkelback & Wick 755B, custom made for Fabrik Dresdner Bierseidel Lorenz & Co.with domed pewter lid, dated circa 1890.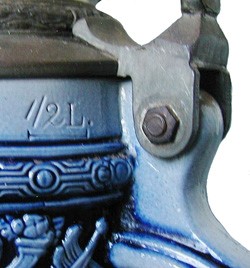 Detail shown on stein above, showing Merkelbach & Wick capacity mark 1/2 litre, plus unique lid mounting on handle specifically made for Fabrik Dresdner Bierseidel Lorenz & Co.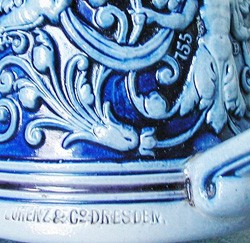 Detail shown on stein above, showing Merkelbach & Wick mould number 755 & B, specifically made for Dresdner Bierseidel Lorenz & Co. who's name is moulded on the base rim.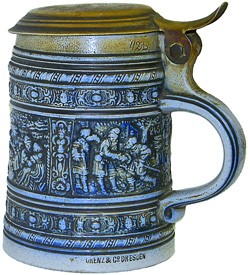 Merkelbach & Wick "Prodigal Son" #245. N.B. unusual hinge arrangement for the nickel silver lid, dated circa 1890.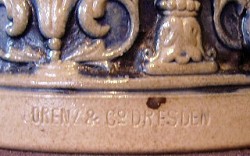 Close up of the Lorenz & Co. Dresden mark on another stein.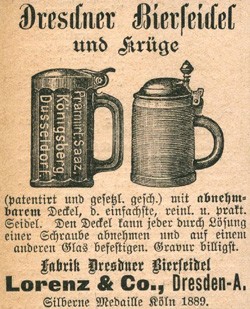 Beiblatt der Fliegenden Blätter, Nr. 2346, Erstes Blatt, 93. Band (93th volume) München, den 13. Juli 1890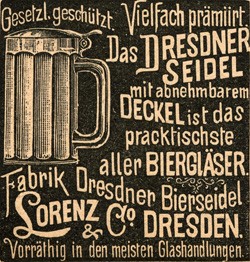 Beiblatt der Fliegenden Blätter, Nr. 2763, Sechstes Blatt, 109. Band (109th volume); München, den 8. Juli 1898