Porzellanfabrik AL-KA Kunst Alboth & Kaiser (K.G.) / Kaiser-Porzellanmanufaktur Staffelstein (G.m.b.H. & Co.) K.G.
Coburg, Hausen, Staffelstein and Auwaldstrasse 8, Kronach, Bavaria.
Hersteller / Manufacturer
Lids were made by: Erbo Zinn
Founded in 1872, and is still operating to the current day. In 1958 after they moved the production to the new facility at Staffelstein,
the Hausen factory site was sold to Rösler / Roesler Porzellan und Kunststoffe. They purchased OCA-Porzellanfabrik Oechsler & Andechser, circa 1960.
Reference: Kaiser Porzellan Porcelain Marks & More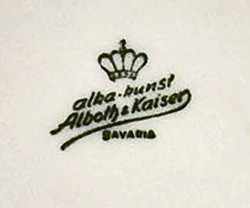 Ink stamp dated 1958 - 1960 on the base of a white porcelain stein with black line drawing of town scene.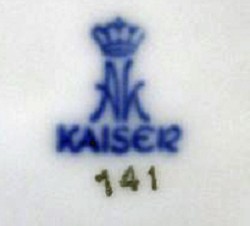 Ink stamp. Between 1970 - 2001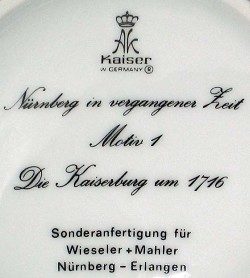 Made for Wieseler & Mahler for distribution through their Nuremberg & Erlangen shops, date c.1980's.

Replica Regimental stein, dated 1970 - 1990.
Base mark on featured stein, together with label from Ebeling & Reuss Co. the importers into the United States, dated 1970 - 1990.
Ink stamp. Between 1967 - 1970