Rösler / Roesler Porzellan und Kunststoffe GmbH & Co. KG
Langenauer Straße 2, Schauberg, Tettau, then Hausen & Untermerzbach, Bavaria
Hersteller / Manufacturer
In 1933, Richard Stephan Rösler founded a porcelain company in Dessendorf in the Sudetenland. In 1945, German nationals were deported from Czechoslovakia with what possessions they could carry and having had their businesses confiscated. He rebuilt the company in 1948, after the end of the war, in Tettau - Schauberg, Bavaria. In 1958, the family acquired the old Alboth & Kaiser porcelain factory in Hausen, where Richard Stephan"s son, Roland Rösler, built up production, concentrating on ceramic polishing media. In 1995, Stephan Rösler, representing the third generation, took the helm and continued with the expansion of the company. Today, the Rösler Group employs 1600 people worldwide.
Reference: Roesler History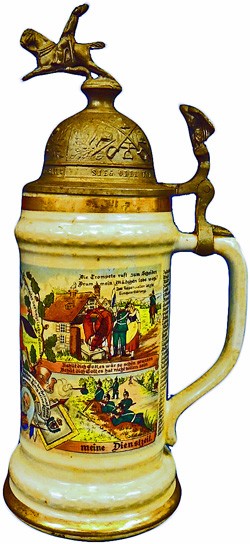 Side view of featured stein.

Reproduction Regimental stein, date circa 1960.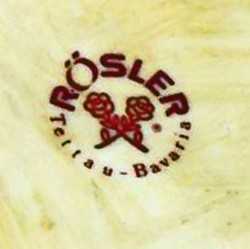 Basemark of featured stein.