Adolf Diesinger Majolikafabrik & Karl Diesinger
Rheinstraße, Schützenstraße 13, Höhr, Hesse-Nassau, Prussia. (now Höhr-Grenzhausen, Rhineland-Palatinate)
Majolikafabrik sowie Elfenbeinware, Unterglasurmalerei und Zinngiesserei.
Majolica or cream stoneware manufacturer, together with print / painting under glaze & an in-house pewter facility.
Adolf Friedrich (born Gersweller, Saarbrücken, Saarland on 3/1/1848 - died 1906) and Karl Ludwig (born Ottenhausen, Saarbrücken, Saarland, 2/12/1853 - died.1928) Diesinger, were distant cousins. Current records state that Adolf Diesinger founded the original company in 1860. However considering his age in 1860, it is more likely that the founding date was nearer 1880. He located himself in Rheinstraße, adjacent to where Marzi & Remy had opened. From known contemporaneous documents it is probable that Karl joined with Adolf in running the company from its inception. They employed eighteen people, including eight potters (turners) and four painters, as well as four pewterers. The company closed in 1906 upon Adolf's death at the age of 58.
Karl Diesinger married Catharina Carolina in Gersweiler, on the 2/11/1878, and then went on to found his own company in Schützenstraße 13, Höhr, in 1906/7. By 1910 this address was occupied by a cabinet maker. It is unknown as to whether Karl introduced a newly designed range. He died, aged 80, in 1928.
Reference: MySteinCollection German Orthography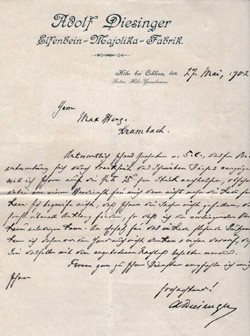 Letter written to a customer on the 27th May 1902 and signed by Adolf Diesinger.Click to enlarge.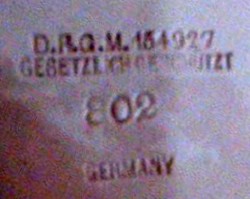 Diesinger #802. Translation of DRGM 154927 below: "Method for accurate and sharp demarcation of colours on Porcelain, Stoneware, Majolica, etc., consisting of an engraved relief contour for all figurative and ornamental representations". Issued on the 9th April 1901, to Adolf Diesinger, protecting the manner in which he decorated his pottery pieces, This patent expired after three years and was not renewed, therefore dating all examples between 1901 and 1904.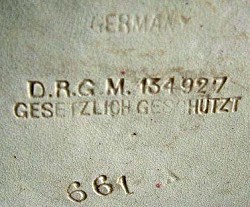 Diesinger #661. DRGM "Deutsches Reich Gebrauchmuster" 154927 patent mark. Achte Beilage zum Deutschen Reichs-Anzeiger und Königlich Preussischen Staats-Anzeiger Nr 147 Berlin, Montag, den 24. Juni 1901 Central-Handels-Register für das Deutsche Reich (Nr. 147 B.) Gebrauchsmuster.


80b 154 927. Vorrichtung zur genauen und scharfen Abgrenzung der Farben auf Porzellan, Stein- gut, Majolika u. dgl., bestehend aus einer gravierten Reliefkontur bei allen figürlichen und ornamentalen Darstellungen. Adolf Diesinger, Höhr b. Koblenz. 9.4.1901. D. 5833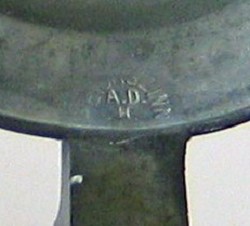 Punched mark on pewter lid.

Adolph Diesinger Majolika-Fabrik #1284, 2.5 Ltr. German Imperial Eagle, together with medieval "Landsknecht" on the sides.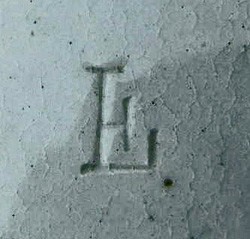 The function off this mark is unknown, but is attributed to Diesinger.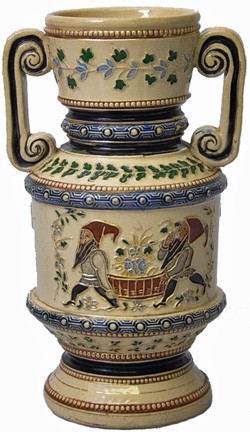 ×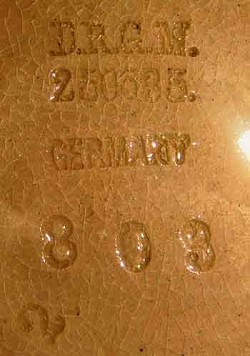 Translation of Diesinger #803. DRGM 250635, below: "Lid fixing for beer steins by means of hinges arranged in the handle", was issued on the 22nd March 1905, to protect the manner in which the lid was attached to the body, as sample below. Examples using this DRGM number can only have been made between 1905 - 1906.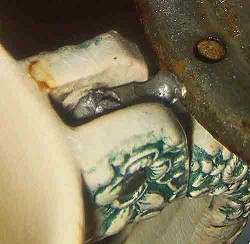 Further explanation of the manner in which the lid was attached to the body. Two lugs on the stoneware handle, act as hinge rings, shown here with the lid open, whilst a single ring remains on the metal lid shank. Finally a pin through all three rings retains the pressed steel lid and allows it to hinge. This means there is no necessity for a pewter strap around the handle with this design, which apart from being a cost saving measure, was a method of producing a hinge lid when pewter was either unavailable or expensive.Siebente Beilage zum Deutschen Reichsanzeiger und Königlich Preussischen Staatsanzeiger (Note the change in the masthead title due to the German Orthographic Conference of 17-19th June, 1901).Nr 120 Berlin, Montag, den 22. Mai 1905Zentral-Handelsregister für das Deutsche Reich (Nr. 120 B.) Gebrauchsmuster

64a. 250 635. Deckelbefestigung für Bierkrüge mittels im Henkel angeordneten Scharniers. Adolf Diesinger, Höhr. 22. 3. 05 D. 9771.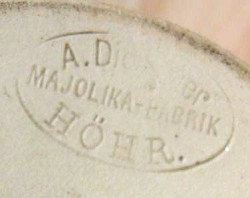 A relatively rare mark that appears on the featured urn, left.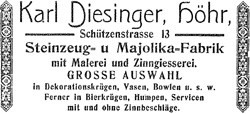 An advertisement from Führer durch Höhr, dated 1907