A.Corzelius-Menningen / (F.)Paul und Hans Corzelius / Roger Corzelius
Mittelstraße, Römerberg 18, Höhr (now Höhr- Grenzhausen), Hesse-Nassau, Prussia.
Now at Auf den Dorfwiesen 30, Hillscheid, Rhineland Palatinate.
Steinzeugwarenfabrik / Stoneware manufacturer
in 1874, August Josef Corzelius married Thekla, the daughter of the potter, Johann Josef Gerhards, and subsequently in 1878, took over and renamed his father-in-law's factory at Bergstraße 4, Höhr. August Josef Corzelius died here in 1901 The first son of August Josef and Thekla Corzelius was August Corzelius, who married Maria Clementine Menningen on 7/10/1895 and founded his own company "A. Corzelius-Menningen" in 1910. He probably took over premises in Mittelstraße from Peter Josef Menningen (who was the unmarried brother of Maria Clementine Menningen). After the death of August Corzelius-Menningen in 1953, his sons August (jun.) and (F.)Paul (who married Cornelia, a daughter of Peter Eckhardt) took over the company. After the death of August jun. in 1963, Römerberg 18 eventually went to (F.)Paul and his son Hans. The company's name was changed to "Paul und Hans Corzelius" around 1971. Roger Corzelius, the son of Hans Corzelius took over the premises and since 1991 the company has been called "Roger Corzelius", has moved to Hillscheid and specialises in the production of stove tiles.
The other branch of the Corzelius family is: Aug. Jos. Corzelius (Inhaber Carl Johann Corzelius) / Werner Corzelius
Reference: Westerwald Keramik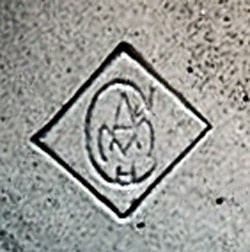 This mark is thought to be the pre 1936 mark for August Corzelius-Mennigen. "A" and "M" intertwined, with an "H" below, all inside a "C", which in turn is inside a diamond shaped box.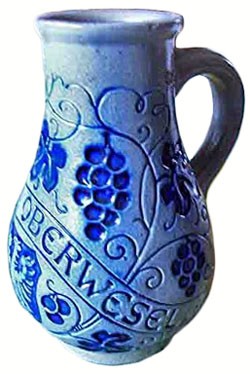 Wine Jug, dated 1936-1971.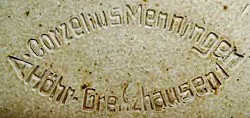 Impressed mark on featured wine jug, dated 1936-1971. The villages of Höhr, Grenzhausen & Grenzau combined in 1936, to form the modern town of Höhr-Grenzhausen.