P. Raddatz (& Co. / & Co. GmbH)

Leipzigerstraße 109, 101, 11 & 121-123 inc. Alte Jacobstraße 5. (W8) Berlin, Prussia (now the Federal City State of Berlin).
Spezialhaus für Glas, Porzellan, Wohnmöbel, Beleuchtung, Haus- und Küchengeräte. / Specialists in glass, porcelain, furniture, lighting, utensils for house and kitchen.
Grossherzoglicher Hof-Lieferant / Supplier to the Court of the Grand Duke

The 1908 catalogue below claims a founding date of 1795. However before 1870, the company details are not known. P. Raddatz was associated with the company of P.J. Behnck, in Rostock, in the then Grand Duchy of Mecklenburg-Schwerin. Raddatz was awarded the title of "Hof-Lieferant" (Supplier to the Court) by Grand-Duke Frederick Francis II, dated Schwerin, 9th March 1869. However it is not unknown for a company to claim the start date of another company, with whom a director had a previous association. So the 1795 foundation date on the catalogue might have originated from either P. Raddatz, Fritz Müntzel, or any of the other partners, associated prior to 1908.
P. Raddatz was certainly at Leipzigerstraße 109, Berlin in 1870, becoming "& Co." in 1874. He took on a partner Fritz Müntzel in 1875, but by 1877 P. Raddatz had disappeared from history. On the 15th June 1876 (P. typo?) Müntzel, of P. Raddatz and Co. Berlin, was awarded the title "Grossherzoglicher Hof-Lieferant" (supplier to the Court of the Grand Duke), again issued from Schwerin. Fritz Müntzel continued to manage the business and took on other partners over the years: 1877-1887 Otto Neumann, 1891-1900 Wilhelm Plambeck & 1905-1906 Otto Ritter & Fritz Müntzel Jnr.
In 1907 the company registered as GmbH, with Otto Ritter & Walter Raddatz as managers. In 1908, Fritz Müntzel again took over the management, with the company deregistering as GmbH. In 1916 Walter Raddatz left, becoming a "sleeping partner", presumably to join the army or navy. In 1919 Otto Ritter returned to help run the company. There are no personnel records available after 1923, but it is known that Fritz Müntzel died either 1927 or 1928.
Their first address in 1870 was Leipzigerstraße 109, but by the 1st April, 1873 they had moved to Leipzigerstraße 101, where they occupied the ground floor from 1874 to 1883 and the whole building from 1884 to 1887. Their next move was to Leipzigerstraße 11, between 1888 to 1896. On 11th May 1890 P. Raddatz & Co. Leipzigerstraße 11, Berlin, received a patent, number 54416 for a "Wäschemangel" (clothes wringer). Then 1897 saw them moving to Leipzigerstraße 123, which was already owned by Fritz Müntzel. The company, in 1903 also started another business at Alte Jacobstraße 5, manufacturing wooden kitchen furniture and ice boxes. This became Alte Jakobstraße 5, in 1904. In 1905, P.Raddatz & Co. purchased and rebuilt Leipzigerstraße 122, then moved the furniture business there in 1906. Finally in 1936, the year of the Berlin Olympic Games, they expanded by renting Leipzigerstraße 121, as well. Digitised records are currently not available after 1943, so their future after this date is unknown.
Purchased steins from: Villeroy & Boch - Mettlach
References: Berliner Adressbücher Berlin Postcodes Hoflieferant 1869 Hoflieferant 1876 Patent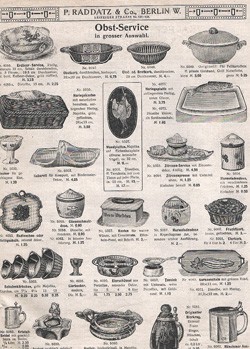 Two steins shown in 1908 catalogue, one at least was probably supplied by Brüder Thannheuser.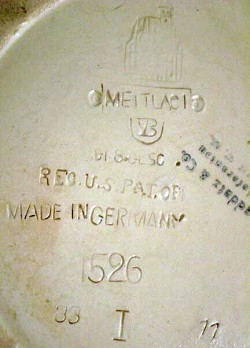 Villeroy & Boch - Mettlach #1526, dated 1911.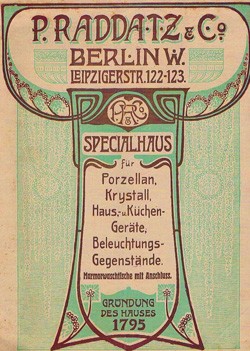 Front cover - Catalogue 1908, the year Fritz Müntzel again took over the management.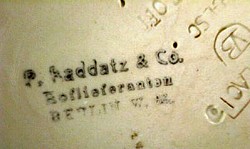 Villeroy & Boch - Mettlach #1526, dated 1911.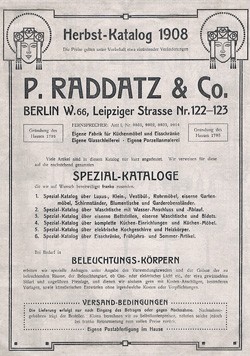 Frontispiece - 1908 Catalogue.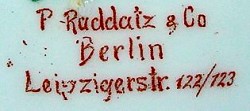 Ink written mark 1906 - 1935.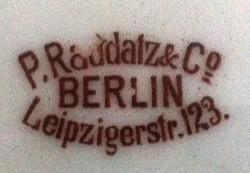 Inkstamp on porcelain plate, post 1897, by an unknown manufacturer.