Ernst Dorfner & Cie. (& Co.)
Hirschau bei Amberg, Bavaria.
Porzellan- und Steingutfabrik, sowie Kaolinschlämmerei / Manufacturers of porcelain & earthenware and kaolin treatment.
Founded by Ernst Dorfner, who split away from his relations in the original  Dorfner & Co to form his own company, which c ommenced manufacturing in 1894. Ironically he sold out to the sons of his relations at  Gebrüder Dorfner in 1913.
Reference: Kaolin Mines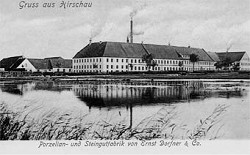 Photograph of Hirschau factory, circa 1900 Porzellan- und Steingutfabrik von Ernst Dorfner et Cie.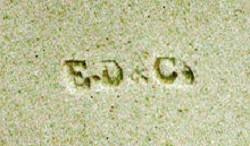 Impressed E.D.& C. for Ernst Dorfner et Cie.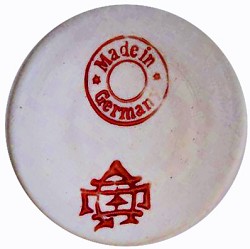 Highly stylised ink stamp "E.D.& C." together with a circular "Made in Germany", which often appears just by itself, or in conjuction with an impressed E.D.& C. or a vendor's mark.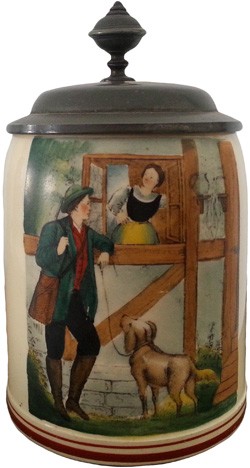 1/2 litre porcelain stein with hand painting over transfer.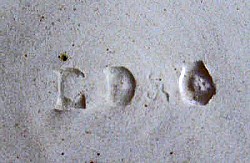 Impressed E.D.& C. similar to that on the above stein.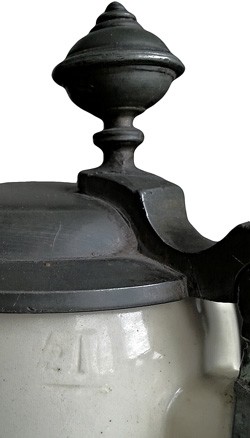 Details of thumb pull and rear of lid together with the 1/2 litre capacity mark.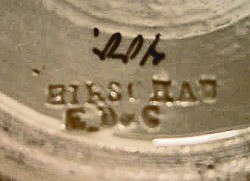 Impressed Hirschau E.D. & C. mark for Ernst Dorfner et Cie. N.B. The E of "E.D.&C." has been added later to an existing Dorfner & Co stamp.