Gebrüder Dorfner G.m.b.H. & Co.
Hirschau bei Amberg, Bavaria.
Steingutfabrik, sowie Kaolin Dampfschlämmerei / Manufacturers of earthenware and kaolin steam treatment.
Founded in 1894 by Hermann & Florian Dorfner, sons of Josef Dorfner of the original Dorfner & Co.
They purchased Ernst Dorfner & Cie. in 1913, for $42,000. Stein production was mainly between to 1895 - 1914 with production of Steingut slowing considerably after 1918.
They are still in business today, but as a kaolin mining and refining company.
Reference: Dorfner Kaolin Mines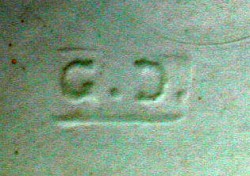 Typical impressed mark used on the featured stein (central)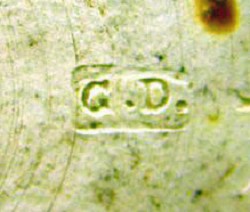 Typical impressed mark used on the featured stein (central)

A not unusual 1 litre stein, with decoration commemorating results in a shooting competition.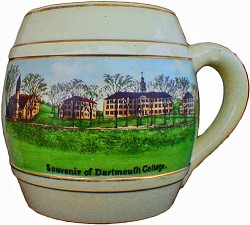 "Souvenir of Dartmouth College". This 0.4Ltr stein would have been an export piece, and was made to order for Charles H. Dudley Inc. There is provenance dating it to 1926.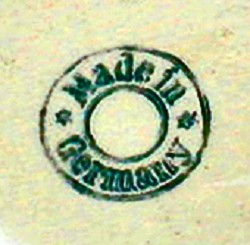 This "Made in Germany" ink stamp appears to be identical in configuration to the Ernst Dorfner mark. However since Ernst Dorfner sold out "Lock, Stock & Barrel" to Gebrüder Dorfner, I see no problem with Gebrüder Dorfner using this mark after 1913.