Karl Gordon
Pfarrhofgasse 89, Gmunden / Traundorf, Austria.
Zinngießerei / Pewterer
Karl Gordon was born on August 31st 1818 in Gmunden / Traundorf. He married Mrs. Anna Schöller on July 26th 1846, in Wimsbach, Upper Austria. He originally worked in Wimsbach as a Pewterer and in June 1860 he settled down at Pfarrhofgasse 89 Gmunden. He died on September 13th 1887 in Gmunden / Ort.
Reference: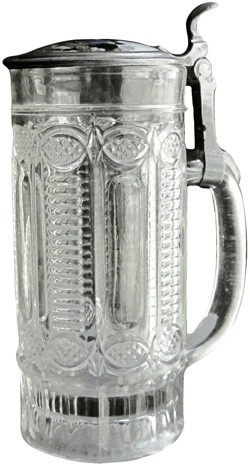 1/2 litre Pressed glass stein, & pewter lid with insert.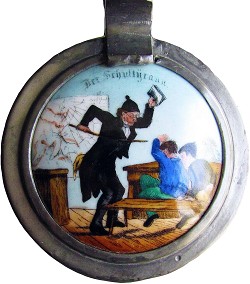 Porcelain insert on the lid of the glass stein. "Der Schultyrann" , The School Tyrant
Newspaper Announcement, Gmunden, on the 18th of June, 1860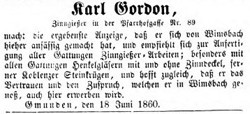 Pewterer in the Pfarrhofgasse 89 Gmunden Newly settled here from Wimsbach, and is equipped for the production of classic work, specialising in glassware with and without pewter lids, also supplying pewter lids for steins from the Coblenz region. He hopes to acquire the same reputation he enjoyed in Wimsbach.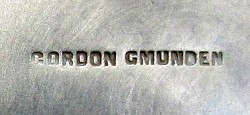 Touchmark on the underside of the pewter lid on the glass stein on the left.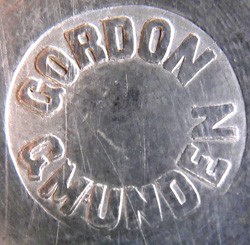 Cast mark on the underside of the pewter lid on the featured stein on the right.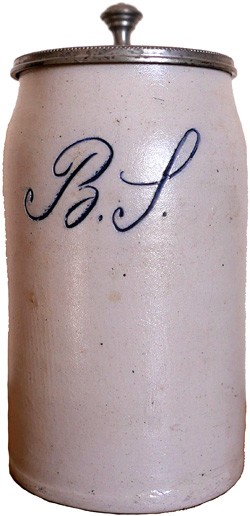 Stoneware stein, circa 1870, inscribed "BS", presumably for Bräu am SeeCourtesy of Bernd Eisenmann.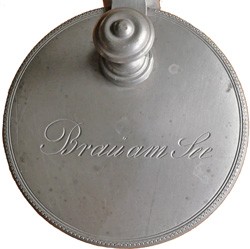 Pewter lid on the featured stein, inscribed "Bräu am See"