Porzellanmalerei, (Zinngießerei) und Pfeifenmanufaktur Aden (Inhaber Karl Ludwig or Louis Aden)
Kirchestraße 10, Soderstraße, 13, Louisenstraße 28,  Elisabethenstraße 39, and Residence; Heinrichstraße 5, Darmstadt, Hesse.
Bierkrüge, Porzellanmalerei, Zinngießerei und Pfeifenfabrikation sowie Militärartikel / Porcelain decorator of beer steins, pewterer and pipe maker, as well as militaria.
The artistic skill originated with Louis's father, porcelain decorator Wilhelm Aden. Wilhelm had married Emma Dümsee and their first born was Karl Ludwig Aden, (b. 17th October 1859, in Andernach) He was registered as Ludwig but was always known as Louis. The start  date of Louis's company was either 1884 or 1885 at Kirchestraße 10.  Meanwhile he had married Fraulein Bedenknecht on the 21st October 1884. Their son, the eldest of six children, was also Karl Ludwig Aden, but known as Karl (b. 14th May 1885). He became a Doctor of Law and had offices in Charlottenburg, Berlin, from 1927 to at least 1943 . 
The porcelain decoration business prospered. Their product range, which was mainly supplied to the members of the garrison of Darmstadt were decorated and lidded steins, plus tobacco pipes, commemorating army service, together with other military souvenirs. In time they therefore required larger premises. So they moved their factory address from Kirchestraße 10, to Soderstraße 13 in 1887, again to Louisenstraße 28 in 1892, and by 1895 were situated at the more prestigious Elisabethenstraße 39. At this address, amongst other trades, was the pewterer Ed. Göbel. In the invoice dated 1913, shown below, Louis Aden claims to be a pewterer. Whether he purchased or inherited Ed. Göbel's business is unknown. At this time his income allowed him to purchase a separate private residence at Heinrichstraße 5.  
Darmstadt was the Residential City of the Grand Dukes of Hesse-Darmstadt und bei Rhein, and also a large garrison town. It was the home of the Großherzoglich Hessische (25.) Division, including the Leibgarde-Infanterie-Regiment 115 (1. Großherzoglich Hessisches), two dragoon regiments, the Großherzogliches Hessisches Feld-Artillerie Regiment 25. and the Train-Abteilung 118. So when the tens of thousands of  men were mobilised in 1914, leaving behind a very small detachment, the business effectively died, since after WW1 Darmstadt was situated in a demilitarised zone. Louis was listed in the directories of that time, as being a "privatier" (a tax payer of independent means). Darmstadt was heavily bombed on the night of the 11/12 September 1944, resulting in a considerable number of  casualities. Louis was caught in the resulting firestorm during this raid. He was recorded as being admitted to hospital (Heil- und Pflegeanstalt Heppenheim an der Bergstraße) in Heppenheim (30 kilometres away) and having died of his injuries on the 24th September 1944, just short of his 85th birthday. His son Karl assumed ownership of the Heinrichstraße 5 address in 1948. He would have probably also inherited the family business, but it is thought that his only involvement was winding up the company and selling any existing assets.
Purchased stein bodies from: ?
Reference:  Darmstädter   Adressbücher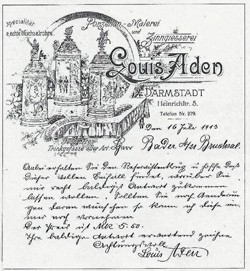 An invoice from Louis Aden to a Herr Bader in Bruchsal, from the Heinrichstraße 5 address, dated 16th July 1913. "Enclosed is your Regimental stein, it is my hope that it will be favourable and to your liking. Do answer soon if at all possible. If you wish, I can make some changes to the design. The price is RM.5.50". Hoping to hear from you soon. Respectfully. Louis Aden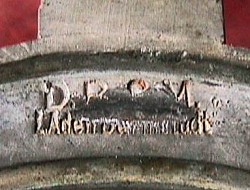 Punch mark in pewter lid, D.R.G.M. L. Aden. Darmstadt.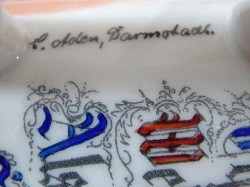 Signature L Aden. Darmstadt

Regimental stein of the Dragoner-Regiment Königin Olga (1.Württembergisches) Nr.25, garrisoned at Ludwigsburg. This unit was first mustered on 17/11/1813. Reference: Regimental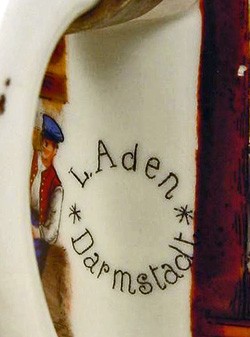 L. Aden. Darmstadt written behind the handle on a Miller's occupational stein.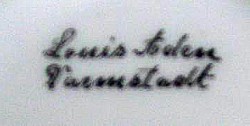 Hand written signature " Louis Aden. Darmstadt ".

Signature L. Aden. Darmstadt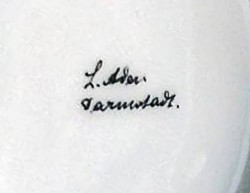 Signature L. Aden. Darmstadt