K. Eichenberger
Bern (Berne) Switzerland.
Porzellanmalerei / Porcelain decorator
Known dates: 1904 - 1909
Purchased steins from: Merkelbach & Wick
Reference: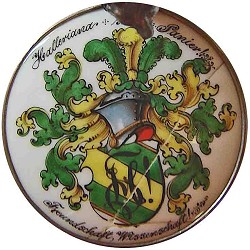 This stein lid shows the Wappen of "Halleriana Bernensis" Bern (Berne); founded on 25/7/1883 as "Akademisch-Naturwissenschaftlicher Verein (ANV)" or "Academic Scientific Association". In 1890 the name was changed to "Halleriana" in honour of Albrecht von Haller. At the opening of the Kornhausbrücke on the 18/6/1898 "Halleriana" made their first appearance as a fraternity, with the motto "Freundschaft, Wissenschaft" or "Friendship, Science", together with the colours of green-yellow-green which are still worn today. More references: Halleriana Halleriana Bernensis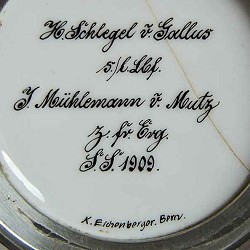 The dedication on the stein lid above, dated 1909, is of the "Halleriana Bernensis" Bern (Berne).

1/2 Litre Merkelbach & Wick Student stein, dated Christmas 1904.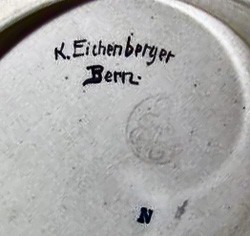 Artist's signature plus impressed Merkelbach & Wick marks on featured stein.