Gebrüder Jung
Kirchstraße 45, (now Töpferstraße), Höhr, Hesse-Nassau, Prussia. (now Höhr-Grenzhausen, Rhineland Palatinate)
Steinzeugfabrik / Stoneware manufacturer
Founded on 1/11/1889 by Franz Jung, in charge of manufacturing, with his brother, Peter Jung as the modeller. The company was registered on the 8/11/1889. Franz Jung, was born 20/05/1861 in Hochheim and died 8/07/1928 in Höhr. Peter Jung, was born 4/09/1864 in Grenzhausen and died 10/05/1918 in Höhr. Their product lines included Regimental steins and tobacco jars. Production ceased in 1918 upon the death of Peter and it is thought that all the moulds were then sold to Dümler & Breiden and Marzi & Remy. The company was finally de-registered in 1925.
Reference: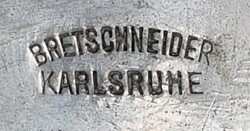 Pewterer's touch mark on the underside of the attached lid on stein, top centre.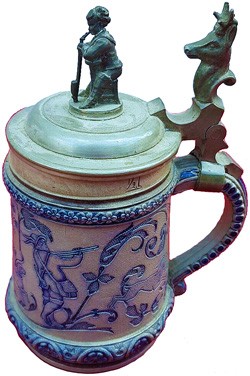 1/2 litre stoneware stein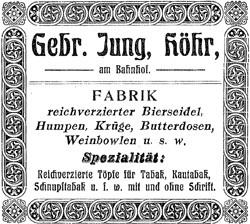 An advertisement from Führer durch Höhr, dated 1907. ×
Basemark on stein, top centre.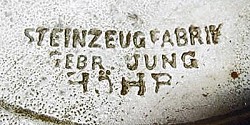 Alternative style of base mark on another stein.