E. Bennett Chinaware Factory / E. & W. Bennett / Edwin Bennett Pottery /
Edwin Bennett Pottery Company / Haynes Bennett & Co. / D.F. Haynes & Son
Caton Avenue, Baltimore, Maryland, United States.
Hersteller / Manufacturer
Edwin Bennett: born 1818, died 1908. James Bennett: born 1812, died 1862.
James Bennett, the brother of Edwin Bennett, emigrated from Woodville in Derbyshire, England in 1835. In 1839 (then aged 27), upon finding clay similar to Derbyshire clay, he founded a pottery in East Liverpool, Ohio. James's brothers Daniel, Edwin, & William joined the business, now called Bennett and Brothers in 1841. The year 1844 saw the business being sold to Thomas Croxhall & Bros. and James, Edwin and Daniel moving to Birmingham, Pennsylvania, leaving William with his own pottery in East Liverpool. In 1846, Edwin moved to Baltimore, Maryland, founding the E. Bennett Chinaware Company. The company then became E. & W. Bennett when William finally left East Liverpool to join Edwin in 1848. In 1856 the name reverted back to just Edwin Bennett Pottery. In 1863, due to the Civil War, Edwin moved his family to Philadelphia, and took up a partnership in William T. Gillinder's glass works, which then became Gillinder and Bennett. Edwin returned to Baltimore in 1867. The business finally became Edwin Bennett Pottery Company in 1890 and in the same year they went into partnership with D.F. Haynes & Son to become Haynes Bennett & Co. only to become D.F. Haynes & Son in 1895. The company was run by Henry Brunt (chief potter and manager) after Edwin's death in 1908. The company finally closed in 1936, during the depression.
References: Angelfire Smithsonian Wikipedia James Bennett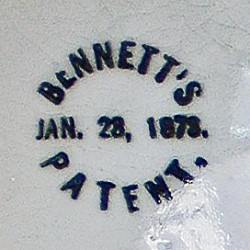 This patent mark, dated January 28th, 1873, means that it was taken out by the "Edwin Bennett Pottery"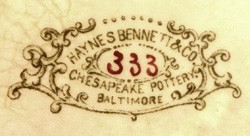 This base mark on a Shakespeare themed vase is after the merger between the Edwin Bennett Pottery Company and D.F. Haynes & Son. This particular piece is dated 1892.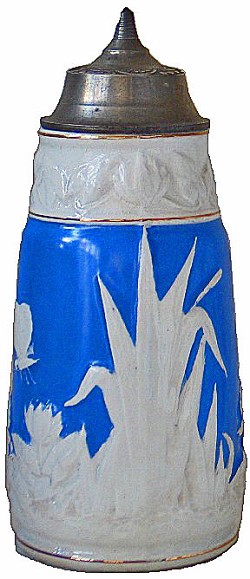 This item is not a beer stein but a syrup pitcher. However it is included due to its similarity.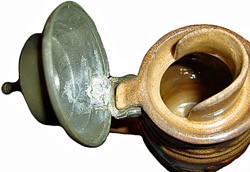 Another pitcher with the same patent mark, dated January 28th, 1873 (shown left) showing the pouring lip and the lid hinge mechanism.

Another patent mark, dated 1855?