D. F. Haynes & Co. / The Chesapeake Pottery Co. / Haynes Bennett & Co. / D.F. Haynes & Son.
The corner of Nicholson Street and Decatur Street, Baltimore, Maryland, United States
Kunst-Töpferei / Art Pottery.
Founded by David Francis Haynes in 1879 as an art pottery. In 1882 he purchased the Chesapeake Pottery which had two buildings and a single kiln. The company was called D.F. Haynes & Co. until 1887 when The Chesapeake Pottery Company was organised. The name changed to Haynes Bennett & Co. when he merged with the Edwin Bennett Pottery Company, in 1890. The name then became D.F. Haynes & Son in 1895. Primarily an artist, Haynes was one of the main designers.
His goal was to produce affordable household items of quality. The factory closure date is unknown.
Reference: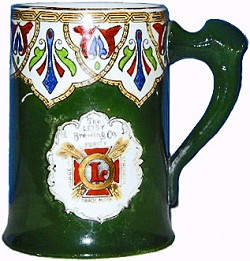 The I. Leisy Brewing Company was in business from 1858 to 1959, but had the name I. Leisy Brewing Company, only between 1893 and 1919.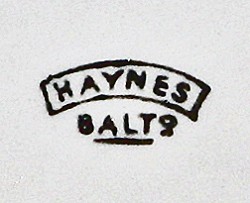 Haynes Baltimore ink stamp on the above tankard,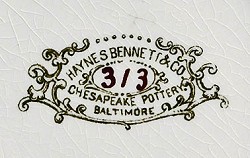 Ink stamp dated 1890 - 1895.
Avalon Faience was a range of Majolica items. Note the C for Chesapeake together with the stylised DFH, indicating a date of not earlier than 1887 going through to 1890.
Tankard with identical pottery to the example on the left, but this time with "Myrian" pattern Art Nouveau decoration. Note the unique handle.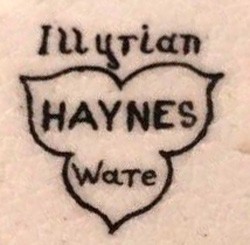 Basemark on the above tankard.