Johann Georg Günzler II
Rothenburg ob der Tauber, Ansbach, Bavaria.
Zinngießerei. / Pewterer
Known dates: Johann Georg Günzler II became a Master Pewterer in 1833. He had an ancestor,
Johann Marcellus Günzler, also a pewterer who was active, circa 1754 - 1790.
Purchased stein bodies from:
Reference: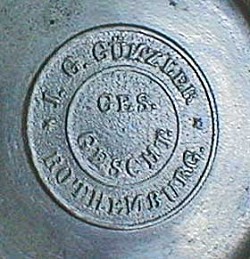 Cast mark of J.G.Günzler. Note reversed N's which were not uncommon at this time.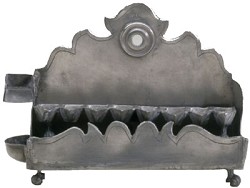 Hanukkah lamp in pewter, made by Johann Marcellus Günzler of Rothenburg, active 1754 - 1790.