Gustav Engel

Walkmuhlgasse 1, then
Judengasse 17, Coburg, Saxe-Coburg and Gotha, Thuringia. (These states joined Bavaria in 1920.)
Zinngießerei. / Pewterer.

Gustav Engel was born in 1880 in Thann near Neustadt, as the son of a innkeeper and farmworker, Johann Engel and his wife Catharina née Kob. Gustav learnt his pewterer's skills at the premises of Ludwig Ruckert in Wurzburg, where he stayed as a journeyman, prior to working in Löhr am Main. In 1905 he opened a business in Coburg at Walkmuhlgasse 1, and then In 1906 he moved the business, just around the corner, to Judengasse 17. Since then, there have always been three or four journeymen, plus one instructor, originally Gustav Witter from Neustadt. In 1907 he married Louise Andres, daughter of a brewing master, who came from Königsberg (now a suburb of Strasbourg), Alsace. In 1932 Gustav Engel was honoured for his 25-year-old membership of the German Pewter Foundry Association. In 1955 his excellent workmanship was celebrated during his 50th business anniversary. In 1961 Gustav Engel died. He was the last "Zinngießermeister" of Coburg. His son Fritz, who had become a lawyer, was listed as missing in Russia in 1943. His daughter Hildegard continued the business, but without the foundry. She leased the shop in 1970, which continued as a glass and porcelain store, run by Maria Schönweiss. Today it is a sewing machine business.
Purchased stein bodies from: Marzi & Remy.
Reference: Coburg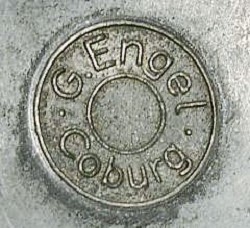 Cast mark on the underside of a pewter lid.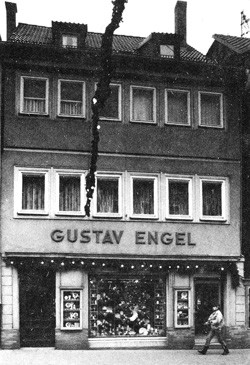 The Judengasse 17, shop of Gustav Engel, the last "Zinngießermeister" in Coburg.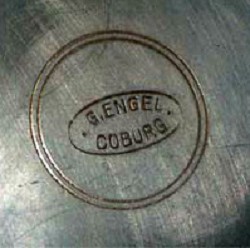 Punched mark on the base of a pewter lid.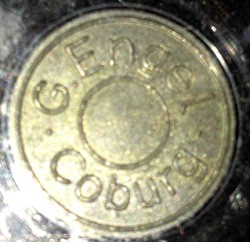 Cast mark on the underside of a pewter lid.