Gregor Lerchen Inhaber Robert Lerchen
Südallee 10, Höhr-Grenzhausen, Rhineland-Palatinate.
Keramik und Porzellanwaren Einzelhandel / Ceramics & porcelain goods retailer.
Founded in 1924 by Gregor Lerchen, they sell wholesale, mainly items of religous ceramic art. After Gregor's death in 1961, his son Robert took over the business together with his wife Rita. Rita started a pottery works and a ceramic workshop, using designs from well-known artists, such as the sculptor Helmut Bourger. In 1994, Robert + Rita handed over the business to their son Joachim Lerchen who runs the company today together with his wife Wilma. Their steins, purchased to order for resale, are supplied by various local manufacturers. They sell only to retailers and not the general public.
Reference: Gregor-Lerchen Westerwald Keramik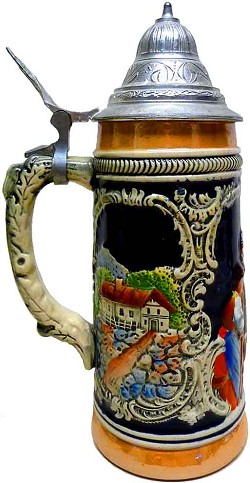 Bought-in stein from a Höhr-Grenzhausen manufacturer.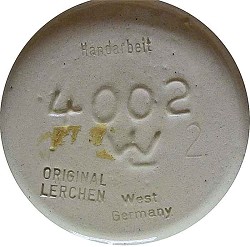 Impressed marks on featured stein above. Possible dates: 1949 - 1990.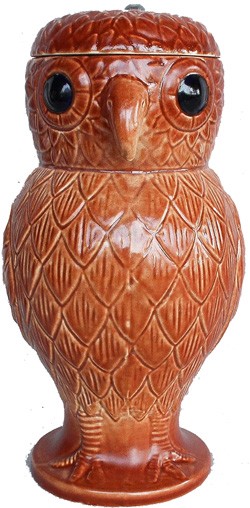 Owl character stein, maker currently unknown.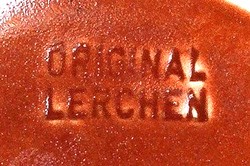 Vendor's mark on the base of the Owl stein.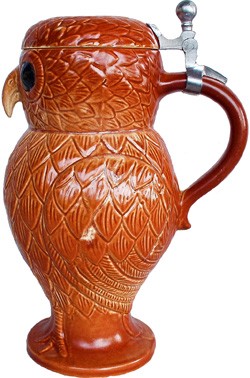 Side view of Owl stein featured centre.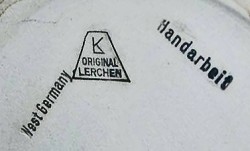 More impressed and inked marks. Possible dates: 1949 - 1990.