J.P. Kayser & Sohn A.G. (Inhaber Engelbert Kayser) Kayserzinn
Cologne as well as Oppum near Krefeld (spelt Crefeld up until 1929), Rhenish Prussia. Now North Rhine - Westphalia.
Zinngießerei. / Pewterer.
The company was founded in 1862 by Jean Kayser in Krefeld. His son, Engelbert Kayser (b.1840) opened a design workshop in 1894 in Cologne. The Krefeld factory production varied around 1900 requiring between 400 and 800 employees. The main designer was Hugo Leven (b.1874 - d.1956), supported by Karl Geyer (b.1858 - d.1912), Hermann Fauser (b1874 - d1947), Karl Berghof (b.1881 - d.1967) and Johann Christian Kroner, who between them, produced around 800 different designs, most of which were mass produced until 1925. The design numbers started at 4000 in 1894/5 and stopped at 4999 in 1925. By 1902 Engelbert was the owner of the company, which is said to have lost its sense of Jugendstil design direction after his death in 1911. Kayserzinn is still in production today.The German spelling for Cologne, varied over the years. So in 1900 the Prussian Minister for Interior Affairs, issued an edict that the correct spelling for Cologne was Cöln. However, on the 1st February 1919, the mayor of Cologne, Konrad Adenauer, stated the official name was again Köln. Probably most people continued to use the spelling they preferred.
References: Kayserzinn Zanida Senses-Artnouveau Abcap Uni-Heidelberg Pg.170 Uni-Heidelberg Pg.166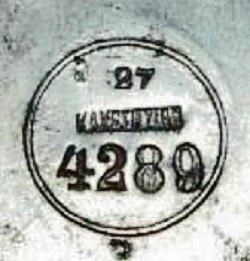 Impressed mark, Design No. 4289.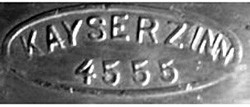 Cast mark, Design No. 4555.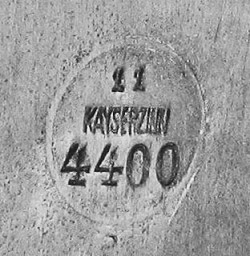 Impressed mark, Design No. 4400.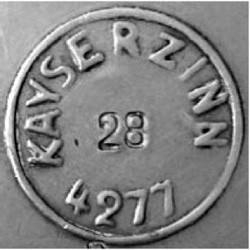 Cast mark, Design No. 4277.