French China Co. / F.C.Co.
East Liverpool / Sebring, Ohio, United States.
Hersteller / Manufacturer
Founded by Fred Sebring in 1898, outside East Liverpool. They moved to West California Avenue, Sebring Ohio, in 1901, in order to have room to expand their business. By 1905 they employed around 150 people. By 1916 the company was controlled by Oliver Howard Sebring (b.1857 - d.1929) and was merged with the Saxon China Company
and others to form the Sebring Manufacturing Company. In 1929, there was one merger too far and the American Chinaware Corporation was formed.
Ruined by the Stock Market Crash of 1929, production was stopped in 1932.
Reference: Angel Fire SebringOhio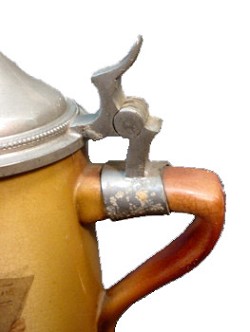 Note typical Manning Bowman lid mounting and thumbpull.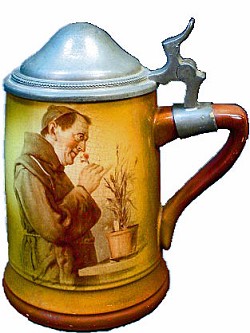 Pottery stein with ubiquitous Monk transfer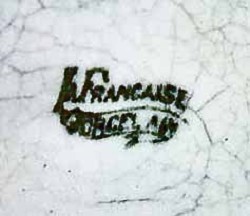 Ink stamp, "La Francaise Porcelain".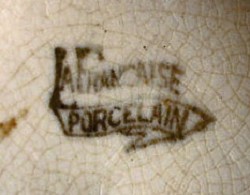 Ink stamp, "La Francaise Porcelain".