Gustav Rosenstängl
Unteren Sand 432 (now called Innstraße 8) Grabengasse 22, & Rindermarkt 3, Passau Old Town, Bavaria
Künstler / Artist

Gustav Rosenstängl Snr. was born in 1864 in Vilshoven. He opened his decorating shop in Unteren Sand 432 (now called Innstraße 8) in Passau Old Town in 1899. Gustav Rosenstängl Jnr. was born 6th November 1893. Sometime before 1914 the business was moved to Grabengasse 22. Gustav Jnr. served his apprenticeship in his father's company and also studied under Professor Reiser in Munich. He served in the army during 1914-1918, but was invalided out after being wounded. He actively participated in the family business and was given additional training as a figurine painter in the Lenck`schen Porzellanmanufaktur. He married on 15th January 1921. Gustav Jnr. took over in 1924 and expanded the business, opening another branch at Rindermarkt 3, in 1931. Gustav Snr. died 15th November 1931 in Passau. The economy became difficult during WW2, but afterwards Gustav Jnr. enthusiasticly started to rebuild the business, whilst his health deteriorated. The high quality of his products, together with the pattern created by him, which became known as the Passauer Pattern, made him the leading porcelain painter in eastern Bavaria. He died 12 August 1949, in Berchtesgaden. After his death the company was run by his wife and his two daughters, Lilly (at Rindermarkt 3) and Gabriele (at Grabengasse 22) until 23rd December 1998.

Purchased stein bodies from:
Reference: Rosenstängl CampusMagasin Wikipedia City Archive-Passau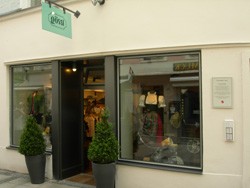 Photograph of Grabengasse 22, Passau Old Town, now a boutique, taken March 2011.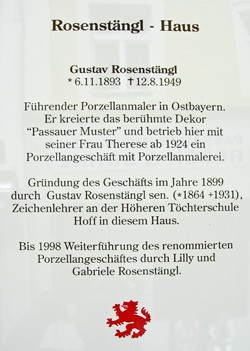 Commemorative notice, which can be seen on the front right of the Grabengasse 22 shop. Photo taken March 2011.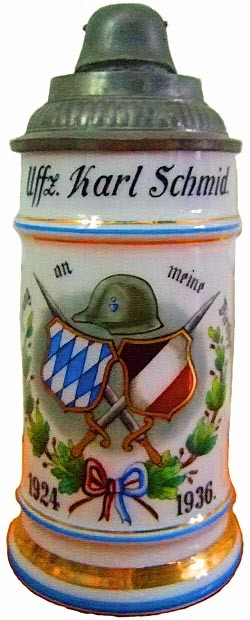 Third Reich stein, dated 1924 - 1936. Due to the steel helmet on the lid, it probably has links to the "Stahlhelm, Bund der Frontsoldaten" organisation.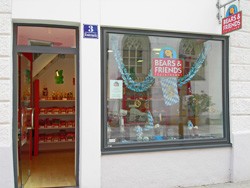 Photograph of Rindermarkt 3, Passau Old Town, now a sweet shop, taken March 2011.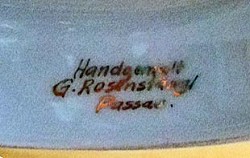 Signature on featured Third Reich stein.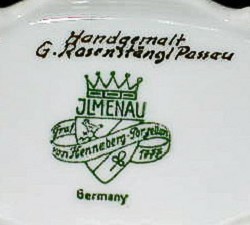 Clearer signature on base of Graf von Henneberg manufactured porcelain vase.