Radeberger Bierglasmalerei (Radeberg in Sachsen) (G.m.b.H. Rabima)
Radeberg, nr. Dresden, Saxony
Malerei / Decorators
The company was founded by Ludwig Nikolaus Ruckert of Franz Ruckert as Managing Director, and Michael Nees from Würzburg as well as Walther Hirsch, the youngest son of Wilhelm Hirsch, who was on the board of directors, of Sächsischen Glasfabrik. and Walther's brother-in-law, Ernst Otto Crienitz of Radeberg, on the 23rd April 1924, with a capitalisation of 12,000 gold marks. They decorated beer steins manufactured by the Sachsenglass factories with their workforce that varied between 15 and 20 employees. The company's official name was "Radeberger Bierglasmalerei, Radeberg in Sachsen", but on the 28th September 1926, the company's name was changed to Radeberger Bierglasmalerei GmbH. "Rabima". On 10th May 1938, Ludwig Ruckert resigned as Managing Director, with his place being taken by Dr. Hans-Joachim Hirsch, a son of Walther Hirsch. Hans-Joachim left for West Germany in 1953, resigning his post in 1954, with his position being taken by Georg Haager. In 1958 the company becomes a partnership, Radeberger Glasveredelung Rabima K.G. George Haager had single power of attorney in a company where the state was the major shareholder. The other nominal partners were, Ludwig Ruckert and Grete Nees. In 1959 it became VEB Beleuchtungsglaswerk, run by Friedrich Wilhelm Jantsch, who was replaced in 1963 by Walther Bartsch and again in 1964 by Elisabeth Steinmitz née Mehling. In 1969 the company came under the aegis of VEB Beleuchtungsglaskombinat Görlitz. Finally it was demerged to be run by Lieselotte Henning of Radeberg. After such a chequered management history, it is not surprising that it was finally wound up on the 15th June 1977.

Reference: pressglas-korrespondenz Radeberger Saxony Address books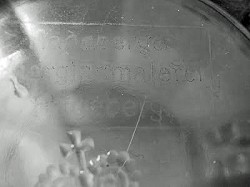 Etched mark on glass tankard, "Radeberger Bierglasmalerei, Radeberg" "Actien Brauverein zu Plauen i.V".