7700 Hall Street, St Louis. Missouri, United States
Importeur / Importer
A.A. Importing Company, Inc. was founded in 1934 by A.A. Gralnick in the Gas Light Square area in St. Louis, MO. as a distributor for kerosene lamp parts and accessories. Prior to and after World War II, they were importing crystal and art glass, as well as porcelain from Europe. The company also supplied a wide selection of art glass and accessories for the antique trader, as well as replacement parts for the antique reproduction business.
In 1974 they started the manufacturing of small furniture items, such as Bentwood hat racks, corner 'what-nots', marble top plant stands and round oak tables. The products supplied include wood, iron, porcelain, bronze, crystal as well as glassware and stained glass items. They are still trading.
Imported steins from: Hachiya Brothers, Albert Jacob Thewalt
Reference: -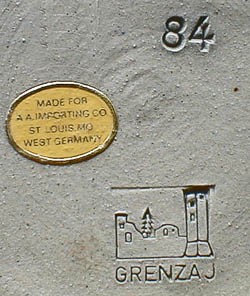 Impressed "Grenzau" mark on base of reproduction Albert Jacob Thewalt stein, dated 1972, complete with aluminised sticker of the A.A.Importing Co.