Remmy

16, rue des Potiers, Oberbetschdorf, (absorbed into Betschdorf in 1971), Elsaß-Lothringen, German Empire (now Alsace, France).
Kunst-Töpferei / Art Pottery.
The Remmy's have been involved in the pottery business since 1568. The current Remmy is the thirteenth generation, based in Betschdorf, working as a potter. Jacques Jacob Remy (b.1568) was originally a Calvinist from the Ardenne region of France, and settled in the area around Höhr in 1586. Calvinists / Protestants were not always necessarily welcome in Catholic Höhr. In 1820, S.Remmy migrated to Betschdorf in order to produce salt glazed stoneware. One of his descendants married into another Betschdorf pottery family, namely the Krumeich's, the outcome of which was the potter Hubert Krumeich-Remmy. The Remmy family is also distantly related to Simon Peter Remy of Marzi & Remy and Johann Wilhelm Remy of J.W. Remy.
A co-operative including most of the Betschdorf families "Poteries reunies des Betschdorf" ran from 1922 - 1969.

Reference: Gres-Remmy Genealogy Elsaß Betschdorf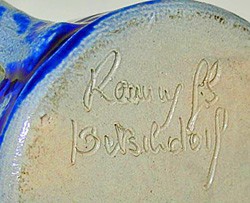 Incised Remmy, Betschdorf on featured stein.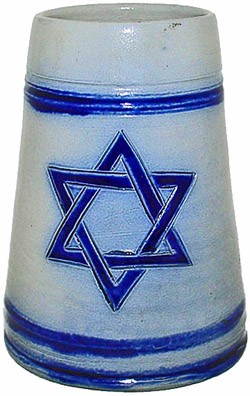 "Davidstern" (Star of David) or "Brauerstern" (Brewer's Star)?