(William / Wilhelm) Guérin & Co.
Limoges, France
Hersteller / Manufacturer
William / Wilhelm Guérin (1838-1912) was born near Limoges and was trained in porcelain techniques. After military service, he rented a porcelain decorating workshop in the Faubourg Montjovis (Limoges) in 1836, doing export. About 1872 Guérin took over the porcelain workshop of Lebron & Cie. Then in 1877 he bought the porcelain factory that had been established by Jouhanneaud and Dubois in Rue du Petit-Tour (Limoges), and which had been bought in 1867 by the Utzschneider Company of Sarreguemines and run by Leopold Dubois. This enlarged company produced a wide range of wares, selling a lot of whiteware and also continuing decoration. Guérin's sons William and Andre joined the company in 1903. In 1911 W. Guérin & Cie merged with the nearby Pouyat factory, buying 3/4 of Pouyat; the new firm became Guérin & Cie. Possibly both company marks were continued. WWI greatly decreased output. In 1920/21 Bawo & Dotter Ltd., also owner of Elite name, bought Guérin & Cie and became Guérin Pouyat Elite, with Carl Bawo as technical director from 1923. The marks of all 3 firms continued to be used. The factory closed in 1932 and was demolished in 1933.
Reference: e-limoges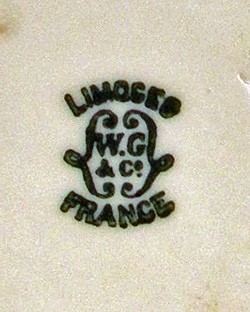 Base mark on featured stein.. Mark for William or Wilhelm Guérin & Co.. The French for William is "Guillaume", so I assume that most of their production was for export, otherwise it would be marked G.G.& Co. Mark dated 1891 - 1932.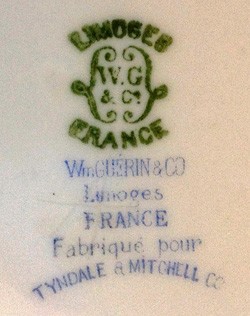 Marks for William or Wilhelm Guérin & Co. The piece was made for Tyndale & Mitchell Co. of Philadelphia.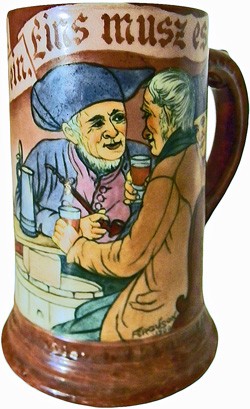 Porcelain stein made in France with German script, dated 1900.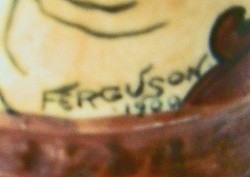 Artist's signature and date on featured stein.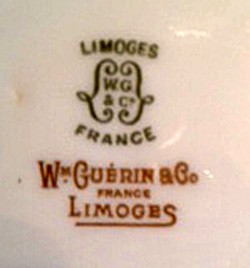 Marks for William or Wilhelm Guérin & Co.