Karl Steubler

äussere Leipziger Strasse 72, Marienplatz 10 & 12, Zwickau, Saxony
Porzellan-Malerei und -Brennerei. Lager von Porzellan-, Glas- und Steingut - Waaren / Porcelain decorator and Kiln. Store for Porcelain, Glass and Earthenware.


The company called Karl Steubler was founded in 1886, by the porcelain decorator and merchant, Karl Bernhard Steubler at äussere Leipziger Strasse 72.
There were also other family members at the same address, Including, presumably, Karl Bernhard's father and mother. Christian Traugott Steubler was listed as a porcelain worker in 1885, and by 1892 was working in the kilns of one of the big manufacturers in the area. He died in that same year, and Emilie Auguste was first listed as his widow (Witwe) in 1893.


By 1904/5 Karl Bernhard had opened a new store at Marienplatz 10, in central Zwickau, but still kept äussere Leipziger Strasse 72 open. In 1908/9 they invested in their own kilns in order to fire the glazes after decoration. Emilie Auguste (Witwe) was no longer listed by 1912/13. In the same year a pewter foundry was installed, and Karl Bernhard Steubler's son, Karl Jun. was working as a salesman at äussere Leipziger Strasse 72. By 1914/15 they had moved from Marienplatz 10 to the bigger, corner premises of Marienplatz 12, and äussere Leipziger Strasse 72 was shut down as a business address. Karl Bernhard Steubler had retired, and his son, Karl Jun. was co-proprietor of the family company together with Max Rämisch. Sometime between 1919 and 1922, the pewter foundry was closed down. In 1922/23 Karl Bernhard died leaving his widow Selma. Karl Jun. became known as Karl Steubler. By 1940/41 the enduring partnership of Karl Steubler Inhaber Karl Steubler und Max Rämisch was listed as an Arts and Crafts shop and with having had its own porcelain and glass decorating shop since 1886, at Marienplatz 12. In 1958 the company was taken over by the Groner family, but porcelain and glass decoration was not continued. The proprietor in 2006 was Joachim Groner, unfortunately in 2012 the company ceased trading.
Purchased steins from: Dorfner?
References: SLUB-Dresden Saxony Address Books SLUB Dresden: 1885/86, 1888, 1892, 1893, 1895, 1898/99, 1900/01, 1902, 1904/05, 1906/07, 1908/09, 1910/11, 1912/13, 1914/15, 1919/20, 1922/23, 1925, 1940/41.
Museum Europäischer Keramikkunst Friedrich Kästner Porcelain Marks and More Saxony Address books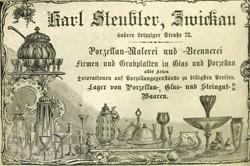 Advertisement in 1896 Adressbuch. Click to enlarge.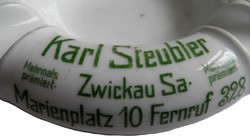 Two sides of an ashtray made for publicity. Dated between 1910/11 and 1914/15.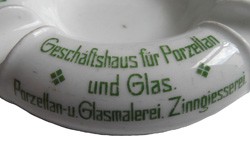 Two sides of an ashtray made for publicity. Dated between 1910/11 and 1914/15.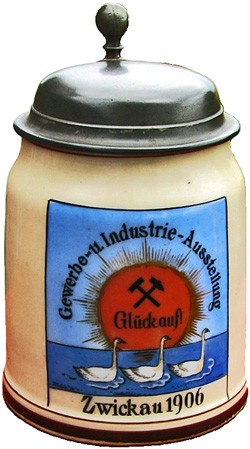 "Trade and Industry Exhibition" - "Good luck. Zwickau 1906".The crossed hammers and "Glück auf" (Good luck) are from the mining industry. Porcelain stein c/w lithophane.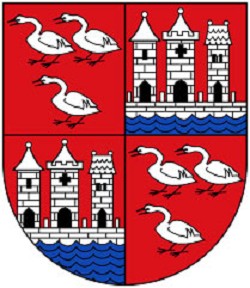 The coat of arms (Wappen) of Zwickau. Note the use of the three swans in Steubler's designs.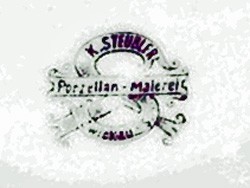 Decorators ink stamp / signature on featured stein.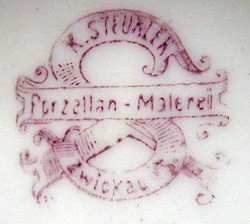 Another decorator's ink stamp / signature.
The Three Swans motive was registered under No. 242 259 on 9th February 1920, and used on the back of their envelopes, with the addition of the 1886 - 1936 ribbon, for their 50th Anniversary.