Veit Seyffarth (Seyffarth Keramik GmbH, Creußen)
Marktplatz 11-17, Creußen, Bayreuth, Bavaria
Kunst-Töpferei / Art Pottery.


Seyffarth Keramik GmbH was founded in 1878 by Philipp Hafner Seyffarth.

The company's founder continued art pottery in the Upper Franconian town which had had its heyday in the 17th

and 18th

Centuries.

In 1919, Philip's son, Christian succeeded to the business, and gave up the oven production and devoted himself to oven tile production. In 1972 grandson Philip Veit Seyffarth modernized the operation in order to produce the world-famous Creu

ß

en steins. The fourth-generation Seyffarth, Christian, became a qualified ceramic engineer in 1989. In 1997 he took over the management and now heads the company with his wife Marion.
Reference:

Seyffarth Keramik

Creussener-Kruege

Lowenstein

Bayreuther Adressbücher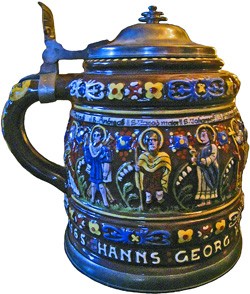 Apostle Stein - side view. The mould used to create the original steins, together with the same Creußen brownish red clay was used to create this reproduction .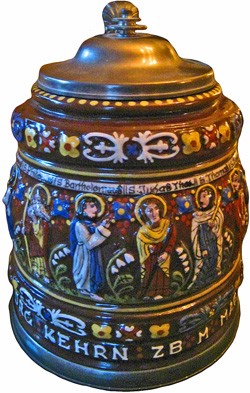 A modern copy of a 2 Litre Creussener Apostelkrug (Apostle stein), the originals of which were made circa 1627-1670. August Saeltzer also made reproductions of these around 1860 to 1880. This reproduction is dated 1972 onward.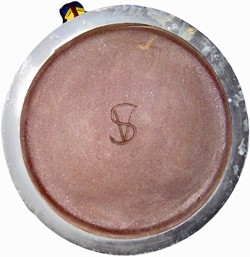 The intertwined initials VS for Veit Seyffarth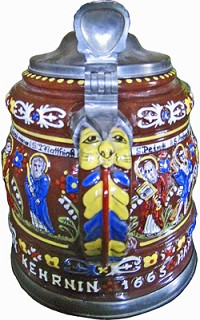 Apostle Stein - handle view. The pewter lid and foot band plus colourful original glazes were used to decorate this apostle stein.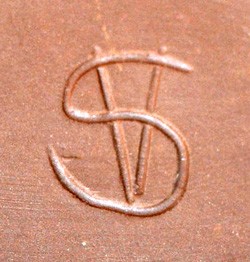 Close up of Veit Seyffarth's initials.