Alexandre Bigot - Grès de Bigot
Retail: Rue d'Assas, Rue des Petites Ecuries, Paris / Production: Aulnay, nr. Mer, Cher et Loire, France
Kunst-Töpferei / Art Pottery.
Alexandre Bigot was born into a peasant family, on the 5 November 1862. He studied at Blois and Paris, culminating in a thesis in organic chemistry. In 1884 he obtained a degree in physics and became Professor of Physical Chemistry at the Ecole Alsacienne Paris. He obtained his PhD with a thesis on the derivatives of glycerine in 1889. Influenced by oriental ceramics, he visited the Universal Exhibition in Paris in the same year, where he met the sculptor Jean-Joseph Carriès to whom he became a technical advisor, thanks to his knowledge of chemistry. His early works were amongst the first representing Art Nouveau and were exhibited in 1894 at the Salon of the National Society of Fine Arts. Then in 1896 his stoneware was exhibited in the gallery, Maison de l'Art Nouveau, in Paris, owned by Siegfried Bing. 1897 he founded his factory "Gres de Bigot", in Aulnay near Mer, this plant had up to 10 industrial kilns and 150 workers by 1914, and he also had a central store in Paris, firstly in the Rue d'Assas followed by the Rue des Petites Ecuries. Alexandre Bigot alone created his own plaster models and moulds, working to the designer's or architect's drawings. The plant's production was very varied, and at first included pots, vases, cups, statuettes & tableware, but these were abandoned in favour of the monumental items, such as chimneys, bathtubs, ceramic facades and interiors. He was the main supplier of architectural ceramics for Emile Muller. His work was rewarded with the Grand Prix medal at the Universal Exhibition in Paris in 1900. He was considered between 1896 and 1910 as a key player in the Art Nouveau movement. However, in 1914 he lost a major contract to supply tiles for the Paris Metro then under construction, which caused him financial difficulties. He tried to restructure his company, but World War I prevented it. He therefore closed the factory and became a technical advisor to the ceramic industry. He was recognized worldwide, both in his time and today, as a master of high temperature furnaces (1350 Celsius). This great artist and technician died amid general indifference in Paris on 27 April 1927. Art Nouveau was by then out of fashion. The tomb of the Bigot family, where Alexandre is buried, is no longer marked.
References: Wikipedia Ceramique 1900 L'artnouveau Alexbigot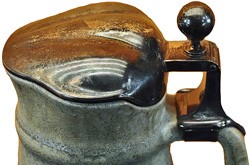 Pewter lid on featured stein.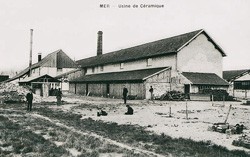 Usine de Grès de Bigot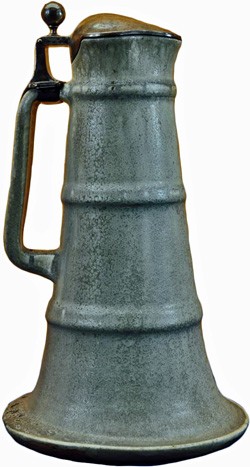 Master stein with hinged pewter lid, designer unknown. Dated circa 1900.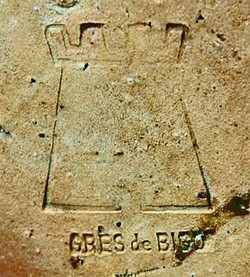 The mark of the factory of Alexandre Bigot.