Joseph Sankey & Sons Ltd (J.S.&S. or J.S.&S.B.)
Albert Street Works, Bilston, nr. Wolverhampton, West Midlands, England, Great Britain.
Art Metallerzeugnisse / Art Metalware
Sankey's produced and sold art metalware between 1890 and 1932. Their product range included jugs / pitchers, tankards, crumb trays and brushes, crumb scoops, trays, salvers / chargers or plates, footed and handled trays of many varieties, tea caddies, chambersticks / candle holders, jardinieres /planters, watering cans, trivets, and ashtrays. They were mainly produced in the early 1900's.
References: History of Joseph Sankey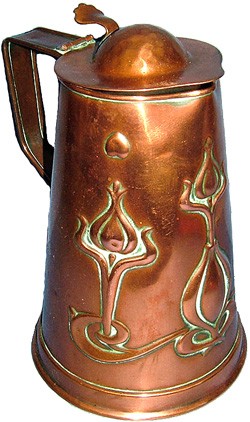 Art Nouveau Tulip Tankard with a 7 Handle, d ated 1903.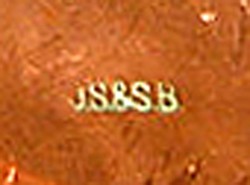 Punched base marks on vessel opposite shows the J.S.&S.B. plus (not shown) Design Reg. No. 409942 & 2 (for 2 pints).