Carl Weishaupt

Diener
s-St

raße (today's Dienerstra

ß

e)149
, Marienplatz 1 and then 29, now Promenadeplatz 13, Munich, Bavaria
Hofjuwelier und Silberschmiede / Court Jeweller and Silversmith


The business was founded by Franz Benedikt Leismiller, when he was awarded the twelveth Silberarbeitergerechtsame (Licence to practice as a silversmith) by the Munich Magistrate's court on the 8th September 1692. Leismiller was the head of the Silversmith's guild in the years 1705, 1715 & 1720. His son, Joseph Bonaventura Leismiller (1698-1737) died prematurely, so the business was managed by his widow, (with another jeweller, Joseph Uhl of Brunnstraße 1191) until 1758, and then in turn by his son Franz Xaver Leismiller (b.1735-d.1810) who died childless.

Anton Weishaupt (b.1776 in Hauerz near Bad Wurzach - d.23rd March 1832) became a Master Silversmith on the 27th December 1801 and became a partner in the Leismiller company. He then married the granddaughter of Joseph Bonaventura. Anton took over the running of the company, with the original licences, upon the retirement of Franz Xaver in 1802. Anton, then resident at Dieners-Straße 149, was awarded the first Royal Bavarian Court title (Hoftitel) for a silversmith (Hofsilberarbeiter), which was published on the 22nd November 1817. He also became the head of the Silversmith's guild. Anton made his reputation by making alterations and additions, under the instruction of King Maximilian I Joseph of Bavaria, to a vast silver dinner service which had been once specially made for Jérome Bonaparte (brother of Napoleon). From that point the company traded and marked its goods under the name of Weishaupt.
In 1826 Carl Martin Weishaupt (b.1802-d.1864) joined his father's company and in 1832 he inherited the company and the licences from his father Anton. On the 2nd November 1852 Carl was awarded the Hoftitel of Königlich Bayerischer Hofsilberarbeiter by the Bavarian King Ludwig I. Carl's brother Max set up his own jewellery business in Hanau, Hesse. Carl's son, named Max Carl (b.1838-d.1903) married, in 1868, Anna Thomaß (daughter of Carl Thomaß, jeweller and brewer). Carl Martin also had a daughter Amalie (b.1839 - d.1897) who married Eduard Riemerschmid (b.1835 - d.1894) They in turn had a son, Richard Riemerschmid, who went on to design sets of award winning cutlery, for Weishaupt, both in 1908 and 1911.

Max Carl inherited his father's business in 1864. Around this time due to the increase of business they moved their showrooms, to Marienplatz 1 and then after 1874 to Marienplatz 29. At the same time, the company intensified the collaboration with the largest south German silver manufacturer Peter Bruckmann & Söhne in Heilbronn. Bruckmann delivered finished parts for Weishaupt's workshop, but also complete sets of cutlery and custom-made silver items which then were stamped with Weishaupt's touch mark. In 1876, during the reign of Ludwig II, Max Carl was awarded the title Königlich Bayerischer Hoflieferant.
Max Carl and Anna Weishaupt née Thomaß in turn had a daughter Clara who was a trained goldsmith, married August Neresheimer, who's family was involved in gemstones and pearls and who was also a curator of the treasury of the Residenz in Munich. Anna was awarded Königlich Bayerischer Hoflieferant during the reign of King Otto, in 1904. The Neresheimers became the business owners after the death of Anna Weishaupt in 1918. In 1921 the Neresheimers purchased the long established business of Harrach & Sohn, who specialised in church silver.

Their daughter Hanni (b.1900-d.1944) married Rudolf Biehler, who were the company's proprietors between 1944 to 1999. In turn, their son Florian Biehler, Master Silversmith has been the owner from 1999 to the current day. However in 1945 Marienplatz 29 was destroyed due to bombing and the family business ceased, in its then current form, from that date. It is however still trading.
Reference: Carl Weishaupt Silbersuite Adressbuch München 1874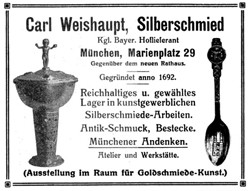 Advert circa 1908.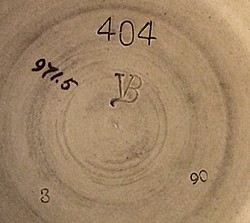 Base marks on featured stein.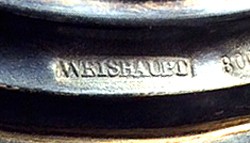 Enlargement made of the Weishaupt touch mark.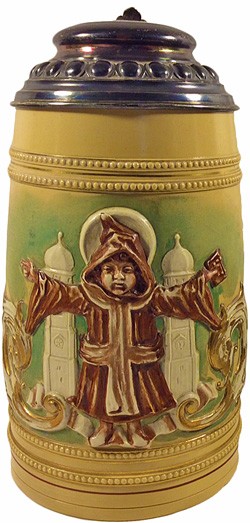 Weishaupt silver lid on Villeroy & Boch - Mettlach #404, Decoration mark 971.5, dated 1890.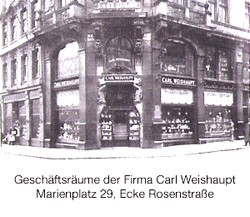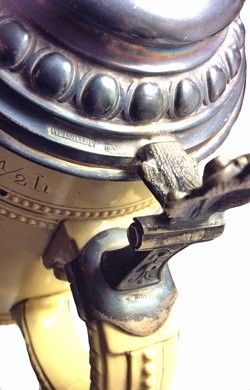 Detail of lid and hinge on featured stein made in 800 grade silver.