Tabakpfeifen Pfeifenfabrik Josef Engler (now
Josef Günthner)

Linz an der Donau, Austro-Hungarian Empire. (now Austria)
Tabakpfeifen Pfeifenfabrik & Photokeramische / Pipe tobacco supplier, Pipe maker and photo transfer decoration.
Josef Engler was born in 1854, subsequently married and had ten children. He opened his shop at Johann-Conrad-Vogelstraße 6 in Linz around 1880. In June 1889, he was charged with an "offense against public morality" in court for allegedly making immoral images on his pipe heads, but was acquitted!
On May 24, 1903, due to illness, he sold his business to Franz Heidler from Marienbad, Bohemia (now Mariánské Lázně, Czech Republic) with the authorization to continue the business under the name "Josef Engler". Heidler was located at Landstraße 63 and at Bürgerstraße 1. In autumn 1903, he continued to run his retail business at Landstraße 63 but located a wholesale outlet at Raimundstraße 10-12. In August 1904 he moved his retail business to Landstraße 36 (Hotel "Schiff") Since about 1907 the shop has been located in Melicharstraße (Melichargasse) 4.
In September 1909, Franz Heidler sold the business to Dr. Franz Strahamer who sold it only 1 year later to the two partners Ferdinand Schiffner and Armin Hoinig. Around 1924 Hubert Spitz acquired the Joseph Engler company and operated it until his death on January 31, 1929. Then Eduard Schille acquired the company from the estate and operated it not only at Melicharstraße 4, but also at Graben 17 and during the war at Adolf-Hitler-Platz 22 (today called Hauptplatz). All owners of the company had continued to operate under the long-established name of Josef Engler!
The photo ceramics company started by Joseph Engler is still operating today at Melicharstraße 4a, However in the 21st century it is now called Josef Günthner.
Reference: www.photokeramik.at Bernd Eisenmann.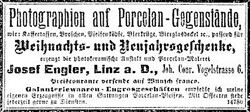 Josef Engler 1890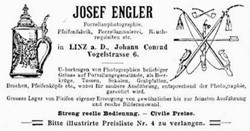 Josef Engler, Inhaber Franz Heidler, 1905

Published by Franz Heidler in November 1905. ×

Porcelain stein with lithophane at base. Portrait is of Kaspar Bartenstein, owner of the Wieselburger brewery in Lower Austria (b.1846 - d.1912)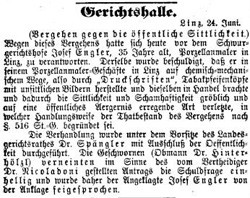 June 1889 - Court appearance report.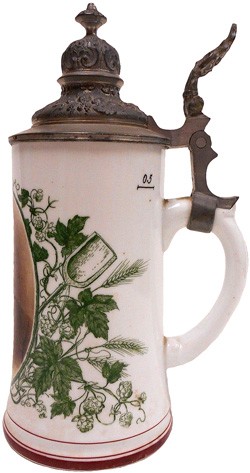 Side view of featured stein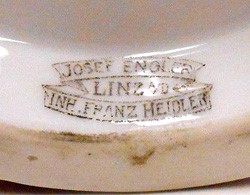 Ink stamp basemark on the featured stein. Franz Heidler was the proprietor of the Josef Engler Company from 24th May 1903 to September 1909.

Eduard Schille: Advertisement of products and services, circa 1930.