Porzellanfabrik Schumann and Reiss /
Porzellanfabrik Carl Schumann (
G.m.b.H & Co. K.G.) (A.G)
Arzberg, Bavaria.

Hersteller / Manufacture
r
Originally founded by Christian Heinrich Shumann (b.1822-d.1884)with a small pottery which had to close since it was in the way of a
developing railway. They reopened, with the help of a local
businessman
,
one Herr Reiss,
adjacent to the Jacobsburg castle, next to the town's market square and close to the new railway line. Carl Schumann (b1871-d1926), the youngest of Christian's four sons was to inherit the factory on the death of his father, however his mother Christiana ran things due to Carl's youth. The company became Porzellanfabrik Carl Schumann on his 21st birthday, but he only assumed control when he married at the age of 25, in 1896. The company expanded steadily until 1923 when it became an A.G (
Aktiengesellschaft). However in 1926 Carl died, at only 55. His son, Carl II took over, only to suffer the poor business caused by a world slump and World War 11. He eventually resigned in 1961 in favour of his son Carl III who was forced to restructure and downsize the factory due to falling business. Carl I's granddaughter, took over as manager in 1981 and fought to expand the business. This was
interrupted by the German Reunification, where they had to compete against the old East German companies. In 1990 they formed a cooperative with Gebrüder Frank G.m.b.H & Co. K.G. who owned factories in Saxony. Poor judgements in marketing made this short-lived and in 1994 with bankruptcy looming, they finally closed their doors.
Reference:
Porcelain Marks & More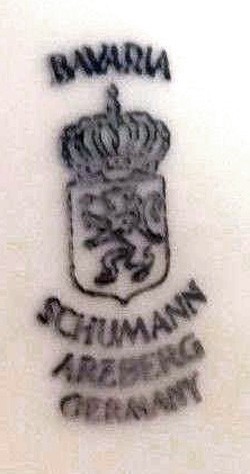 Featured stein mark dated to 1960 - 1970