Bailey Banks & Biddle
1217 Sansom Street, Chestnut Street, Philadelphia, United States of America
Jewellier
/ Jeweller
Founded in, 1832, by Joseph
Trowbridge
Bailey & Andrew Kitchen
a
t
1217 Sansom Street,
Philadelphia.
Kitchen retired in 1846 and subsequently died in 1850. it became Bailey & Co in 1841 and in 1851 Trowbridge's son, Joseph T. Bailey entered the business. In 1854, the founder,
Joseph
Trowbridge
Bailey died in Cuba.
In the years that
followed
the company was commissioned to create coins, swords and medals, for both the Confederate and Union Governments.
On March 1st 1878, the Philadelphia Evening Bulletin reported that the new management team would consist of general partners Joseph T. Bailey II, George W. Banks of J.E. Caldwell & Co, and Samuel Biddle of Robbins, Biddle & Co. The new name would be Bailey Banks & Biddle. By 1894 both Biddle and Banks had retired and the company went public on 2nd March of that year, adding & Co. to the company name.
In 1904 the company moved to Chestnut Street, and in the same year was commissioned by the U.S. Government to update the
Great Seal of the United States
; its design today remains the official version of the seal. From 1905 the company also designed and made many of the military medals that are still used today, including the Medal of Honor, the Silver Star, the Bronze Star and the Purple Heart and many other examples of military insignia. In 1918 Joseph T. Bailey's son, Charles Weaver Bailey took over after his father's death. Charles subsequently died in 1922. The company continued to accept commissions for military medals over many decades. Today they are still producing commemorative items for, amongst others, the NASA programme, Presidents of the USA, City Illuminaries & Universities.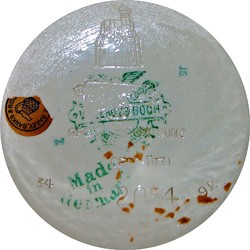 Base of featured stein showing both Impressed marks and inkstamps, plus '92 date mark, together with the vendor's paper label.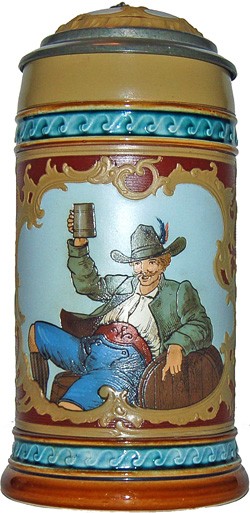 Villeroy & Boch - Mettlach #2054, dated 1892,Design by Christian Warth.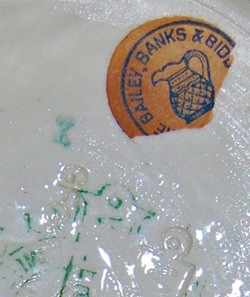 Magnification of vendor's paper label on featured stein.