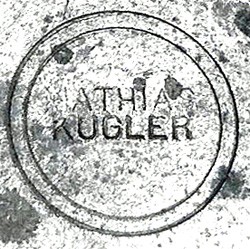 Mathias Kugler on the underside
of the lid on the featured stein.
The lid is inscribed "
Arbeiter Unterstützungsverein
Neufahrn
1906"
.

Workers
S
upport Club
Neufahrn bei Frieising
1906
Frontispiece "Turnvater Jahn"
Originator of modern gymnastics
"Frisch,fromm,
fröhlich, frei".
("Fresh, Pious, Cheerful, Free")


Stein lid from the
Straubingerhof, Regensburg.

Kugler. Rein Zinn (pure Pewter - no Lead),
touch mark on featured stein lid above.