Alfred Stellmacher

Turn bei Teplitz, Bohemia, Austria-Hungarian Empire, (now Trnovany, Czech Republic).
Kaiserliche & königliche Porzellanwerke / Imperial & Royal Porcelain Works
Alfred Stellmacher began working at the Imperial & Royal Porcelain Works in Vienna, but opened his own factory in 1859, in Turn-Teplitz. In 1894 Ernst Wahliss (b.1836) took over the Alfred Stellmacher factory. The factory was renamed Ernst Wahliss Kunst, Porzellan und Fayence Fabrik. His Vienna store which sold porcelain and ceramic wares was established in 1863. Ernst died in 1900. Two years later his sons, Hans and Erich, bought 600 moulds from the Imperial and Royal Porcelain Manufactory in Vienna. Using these moulds they started making reproductions of Vienna porcelain. In 1905 the company was renamed as Alexandra Porcelain Works Ernst Wahliss. In 1907 the factory was acquired by Gerhard Martin Wahliss. In 1910 the factory focused on production of faience. The factory temporarily closed during World War I. In 1921 it became part of Porzellanfabrik Union AG and in 1929 production ended.
Meanwhile by 1892 Alfred Stellmacher had encouraged his son and sons-in-law to establish a porcelain manufactory, called Riessner, Stellmacher & Kessel or The Amphora Porcelain Works. The firm consistently marked pieces with the word Amphora and became known by that name. They used a variety of marks with the word Amphora, a red 'R.St.K' mark, or the initials 'RS&K'. The works were also signed 'Made in Austria'. Thanks to skilled designers like Eduard Stellmacher, Paul Dachsel and a host of decorators from the Fachschule of Teplitz, Amphora quickly developed a unique genre of Art Nouveau ceramics. The departure of Paul Dachsel in 1903 and Eduard Stellmacher in 1904 ended Amphora's golden age.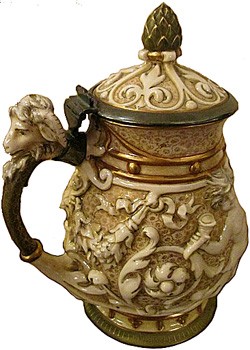 Porcelain stein dated between 1859 & 1894.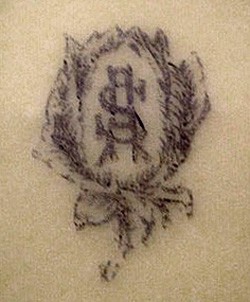 Basemark on the featured stein.