Fachschule Teplitz
Teplitz-Schönau, North Bohemia, Austria-Hungarian Empire, then German
Sudetenland
, now Teplice, Czech Republic.

Formally known as the Imperial and Royal (K.u.K.) Technical School for Ceramics and Associated Applied Arts and located in Teplitz, Fachschule Teplitz enjoyed a cooperative relationship with Amphora and other pottery manufacturers in the Turn-Teplitz area, which, in the year 1900, numbered around 30. Though the institution was originally founded as a school for drawing and modelling, the surrounding local ceramic industry soon began to have an influence on the school. The various factories and porcelain manufacturers supplied the school with teachers, lecturers, as well as clay and other mineral resources; in return, the school supplied the factories with a steady stream of fresh talent. The school's curriculum included sculpture in clay and required that nature be the major source of inspiration for students. Factory records at the Amphora ceramic's factory indicated that, in addition to hiring graduates, many employees attended evening and Sunday classes at the school. Students created highly accomplished finished works, marked Fachschule Teplitz. The ceramics produced at Fachschule Teplitz gained international recognition at the turn of the century, and were exhibited at the Exposition Universelle of Paris in 1900, and the World Exhibition in Saint Louis in 1904.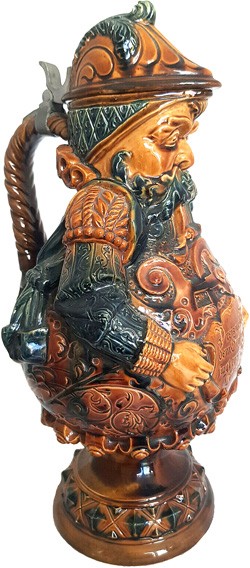 Right hand view of the Kugelbauchkrug (pot bellied stein),featured on this page.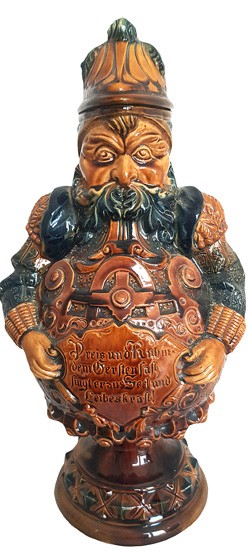 Preis und Ruhm der Gerstensaftsingt er aus Seel und Leibeskraft! He sings with his soul and all his strength:Praise and glory to the barley brew (beer)!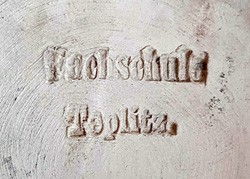 The 37 centimetre tall Knight stein was made as an art project around the turn of the 20th century, with an impressed "Fachschule Teplitz" basemark. ×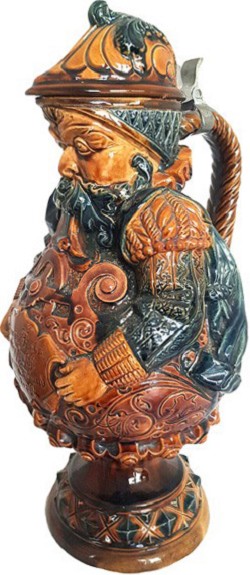 Left hand view of the Knight, which appears to have drawn its inspiration from Reinhold Hanke #59.