Johann Hoffellner (aka Hoffelner)

Salzachgasse, Salzachmüllerhaus 6, Salzburg-Mülln, Griesgasse 7, Theatergasse 6, Salzburg, Austria
Zinngießer, Glazer und Glasschleifer / Pewterer Glazier and Glas Grinder
Johann Hoffellner was born on March 12, 1838 in Weissenkirchen im Attergau, Upper Austria, son to Anna Maria Hoffellner, who was a glass-cutter's daughter. In January 1876 he ran a glass grinding shop in Salzachgasse in Salzburg-Mülln, later he moved to Griesgasse 7 where he also opened a pewter foundry. In April 1881 he moved across the river Salzach to Theatergasse 7. He died in Salzburg on February 21, 1884. Pewterer Simon Starzinger subsequently took over his vacant business.
Reference: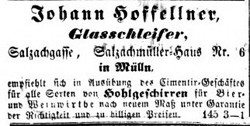 1876: Advertisement all types of hollow dishes for beer and wine-making, made to guaranteed accurate measures, at cheap prices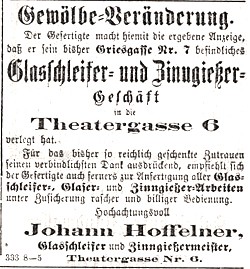 1881: Change of address. Johann Hoffellner hereby makes the announcement that his Griesgasse 7 based Glass Grinding and Pewter shop is now moving into Theatergasse 6. Ably gifted to express fine quality he recommends his company for Glass Grinding, Glazing and Pewter Casting work, with the assurance of rapid delivery at low cost.