Jakob Klütsch / Paul Klütsch
Löhrstraße 32 & 65, Coblenz (spelt Koblenz 1926 onward) Rhineland Palatinate.
Zinngießerei und Glas & Porzellanmalerei.
Known dates: 1894 - 1912/14
Founded by Jakob Klütsch, but succeeded in 1901 by his son, Paul.
In 1904/05, Paul Klütsch installed a porcelain and glass decoration shop together with a pewter foundry, at Löhrstraße 65, .
Purchased stein bodies from: Reinhold Merkelbach,
Reference: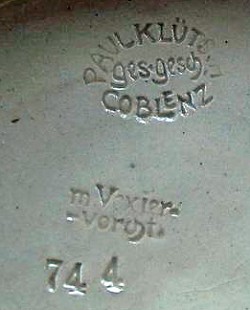 m Vexier-vorcht is the abbreviation for MIt Vexiervorrichtung, "With vexation device"This means that when a beer stein was exclusively designed for use by a left-handed person it would have a few holes, which were placed in such a way, that when a right-handed person raised the stein normally to drink from it, the beer would spill on his shirt and he would be the target of derision, fun or merrymaking.

Reservist's stein who served both on SMS Rheinland and SMS Zaehringen ×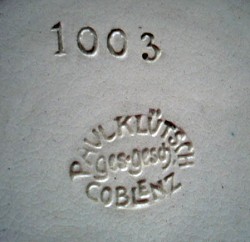 Kaiserlichen Marine. SMS Berlin. Matrosen Division Wilhelmshaven. dated 1906-1909.