Reinhold Merkelbach / Merkelbach Manufaktur / Merkelbach Manufaktur W. Goebel KG./ Manufaktur Merkelbach GmbH
Brunnenstraße 11-13 & Kirchstraße 15-17, Grenzhausen, Hesse-Nassau, Prussia. (now Hohr-Grenzhausen, Rhineland Palatinate) 
Steinzeugfabrikant & Zinngiesserei / Stoneware manufacturer amd pewterer
Also, Keramikwarenhandel (distribution centre). Mittererstr.10, (Wilhelm Merkelbach.  Grenzhausen, Hessen - Nassau) 
&  Bayerstraße 85, Munich. (Frau Toska Merkelbach, Grenzhausen, Hessen - Nassau) & Nuremberg.
? The following article was written by Judith Engelmann née Merkelbach, the last manager of the factory known as Reinhold Merkelbach ?
Merkelbach Manufaktur, better known as Reinhold Merkelbach in Höhr-Grenzhausen was founded in 1843 and officially registered in 1845 by Wilhelm Merkelbach (1817-1859). His ancestors had been potters since circa 1600 in the Westerwald. After his early death, his son Wilhelm Reinhold Merkelbach (1847 -1891) left school early to help his mother. He made his first journey to sell the pottery in Bavaria, at the age of 16. The pottery was eventually named after him. He developed the pottery into a semi industrialised ceramics factory with more than 50 workers. His widow Toska Merkelbach (1854-1939) ran the factory until their sons became adults. She enlarged the factory further and implemented new production techniques. In 1907 she gave the factory to Paul Merkelbach (1882-1917) and Reinhold Merkelbach (1885-1918). They worked together with famous Jugenstil designers and made Reinhold Merkelbach well known for excellent quality and modern design. 
In 1911 Steinzeugwerke Höhr-Grenzhausen GmbH  was founded by Reinhold Merkelbach, Simon Peter Gerz, Reinhold Hanke and Walter Müller. It was a marketing company, specifically to sell the Jugendstil ceramics the four factories produced. The share holders invested their modern design moulds of steins, bowls, jugs, figurines and household ceramics in the new GmbH. In 1918 Reinhold Merkelbach was the only remaining share holder, the moulds remained with Steinzeugwerke Höhr-Grenzhausen GmbH when the other shareholders quit the Steinzeugwerke.  In 1936 Steinzeugwerke Höhr-Grenzhausen GmbH was incorporated into Reinhold Merkelbach.
After the death of her sons in WWI, Toska Merkelbach took over again to save the factory for her newly born grandchild, Reinhold Paul Bernhard Merkelbach (1918 - 2006). Together with her daughter-in-law Gertrud von Liebig, née Stade, but widowed Merkelbach , (1886-1971) they engaged Carl Jung as manager, in 1924. He ran the factory until 1957 when Prof. Dr. Reinhold Paul Bernhard Merkelbach took over. However his talents came not from his father's side of the family, but from those of his mother, so he became a classical philologist, and too had to engage managers, first Walter Ott and then in 1971 Willi Remy. Dr. Reinhold Merkelbach was really interested in improving the technical capabilities of the factory and between 1960 and 1971 he invested in new kilns and two new buildings for the production were erected. 
After WWII the sales of ceramic products increased, so called "Altdeutsch" for export and the "Salt glazed stoneware" for the German market were the main product lines.
In 1970 the name of the factory changed to Merkelbach Manufaktur KG and when it became clear that Judith Engelmann née Merkelbach, a ceramics engineer and partner in the company since 1965, wanted less involvement with manufacturing, 50% of Merkelbach Manufaktur KG was sold to W. Goebel KG in 1971. Profits were invested in technical development again. The official name changed to Merkelbach Manufaktur GmbH & Co. KG.  The sales increased and technical development was supported by Goebel technicians. The manager however was still Willi Remy. Merkelbach had at that time more than 100 workers. From 1980 the market for ceramics dwindled, many firms collapsed. Merkelbach had to downsize for financial survival. 
In 1985 W. Goebel KG wanted to purchase the remaining 50% of the company. So the Merkelbach family sold their remaining part, with only Judith Engelmann remaining as a silent partner. The name of the factory then became Merkelbach Manufaktur W. Goebel KG. Between 1972 and 1987 Merkelbach was a member of the Goebel Group. During this period the pottery was enlarged and considerable technical development took place. In 1988 members of the Merkelbach family, a collector of Merkelbach Jugendstil and some of the former staff repurchased the factory and continued production with reduced staff under the name Merkelbach Manufaktur GmbH. In 1995 Judith Engelmann took over the management until 2007. Production of ceramics in Germany had no future and the following generation had no interest in the company, so it was closed in October of that year. The moulds were transferred to Töpferei Girmscheid Höhr-Grenzhausen, to ensure that Merkelbach's best selling pieces and the best known Jugendstil steins were still available.

What has been produced during those 160 years?:
Around the middle of the 19th Century, the pottery was producing primarily hand-made tableware for the household, drain pipes and technical vessels. These were considerably more robust and hardwearing than porcelain or earthenware. In the early 1880's the Merkelbach pottery, which had meanwhile become a member of the Bavarian Applied Arts Society, with a branch, from 1891, in Bayerstraße 85, Munich, began to produce artistically designed stoneware, its so-called "art pottery". The production of rustic tableware still continued. 
This new venture was made possible by refined methods of clay preparation and firing. The first artistically designed stein is the Merkelbach mould No.1, produced in 1882. Merkelbach´s artistic designs endeavoured to mirror the taste of the customers who fancied scenes of everyday life and historical stories. "Jugendstil" was a new epoch for Merkelbach . Among the artists employed were H.van de Velde (Weimar), P. Behrens, F.H. Ehmcke and especially R.Riemerschmid (Munich) and P.Wynand (Rome). Some of those designs were reproduced in limited editions from 1982. As before, the production of rustic tableware and historism vessels still continued.In later years Merkelbach relied increasingly on designs produced by local Westerwald artists who meanwhile benefited from wide artistic activities, for example: C.Mehlem in the 40's and 50's and E. Steinebach in the 50's and 60's. After WWII large amounts of tableware were required in the destroyed towns, so Merkelbach produced lots of ordinary dishes, jugs, pitchers. Later the production focussed on historism beer mugs for export and handcrafted salt glazed stoneware for the German market. While being a member of the Goebel Group, and later, modern artists like H. Welling in the 70's and 80's, A.Birck and H.Ehring in the 90's and H.Bartels and others in the early 2000´s developed the "Werkstatt Kollektion". So until the end of production the Merkelbach product line mirrored the latest fashions.
The following designers either designed pottery for Reinhold Merkelbach, or put their decoration on standard pieces: 
In 1884, Otto Hupp* designed the current Spatenbräu brewery logo, which was used on Reinhold Merkelbach steins commissioned directly by the brewery.
Friedrich Adler    Peter Behrens    E.Berdel    Hans Eduard von Berlepsch-Valendàs    Joseph Breiden    Leopold Moritz Karl Capeller    Ernst Moritz Ehrlich  
Fritz Hellmuth Ehmcke   August Geigenberger    Karl Gelhard    (Johann Wilhelm) Karl Görig    Joseph Hahn    Theodor Otto Hahn    August Hanke    Friedrich "Fritz" von Heider   
Leonhard Hellmuth    Ludwig Hohlwein    Patriz Huber    Otto Hupp   Alfred Kamp    Hertha Kasten    Karl Koch    Charlotte Krause    Ludwig Leybold    Karl Mahler   
Bruno Mauder    Karl Mehlem    Wilhelm Menningen    Richard Meyer    Carl Moos    Albin Camillo Müller    Paul Neu    Adelbert Niemeyer   
Max Prugger    Richard Riemerschmid     Franz Ringer    Schmidt    Theodor Schmidt    Friedrich Georg Tobler   Henry van der Velde   Paul Wynand
References:  Character Steins   Capacity Marks    Westerwald Adressbuch    Character Steins Catalogue    MySteinCollection    Uni Heidelberg pg. 44/45    Digital Bibliothek    Adressbuch München 1874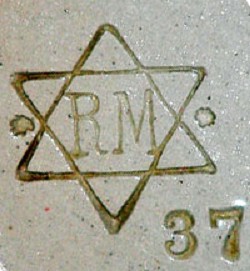 Impressed mark on #37, dated between 1882 - 1933, although it has been suggested that this mark was not used after 1908.
Impressed mark on #679, dated between 1882 - 1933, although it has been suggested that this mark was not used after 1908.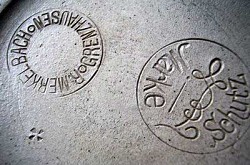 Impressed mark - circa 1900, plus copyright mark on the right hand side.
Impressed mark on an etched Henkelkanne by Ludwig Holwein, circa 1930's, from a "Leaping Reindeer" design of 1910.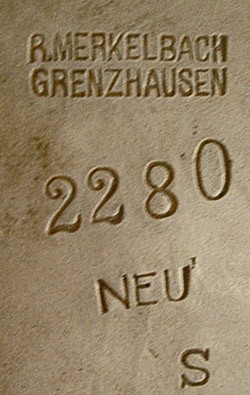 Impressed mark om #2280, designed by Paul Neu, dated between 1903 - 1936, prior to Grenzhausen combining with Höhr to form Höhr Grenzhausen.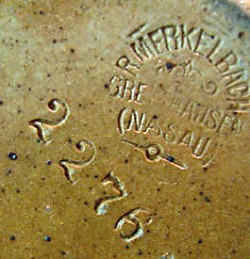 Impressed mark on #2276 - circa 1909 - 1920.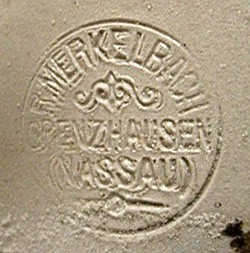 Impressed mark on un-numbered stein, dated 1919.
Pewterer's touch mark on Reinhold Merkelbach #1450, dated 1902.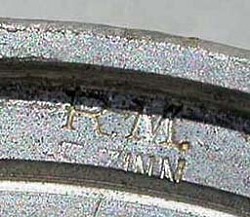 Punched mark in pewter lid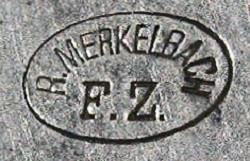 Punched maker's mark on underside of stein lid, plus "Fein Zinn", on stein with the impressed pre 1933 "R.M.Hexagram".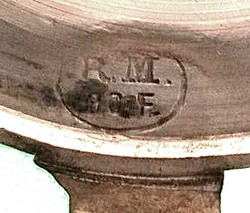 R.M. 80F? marking on lid on R. Merkelbach #78, stein.
A resurrected Holwein design, #426/21,  dated between 1946 & 1949..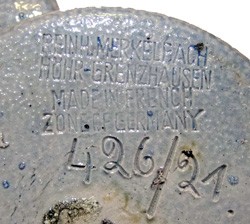 Basemark on featured stein above. "Reinh. Merkelbach, Höhr-Grenzhausen. Made in French Zone of Germany"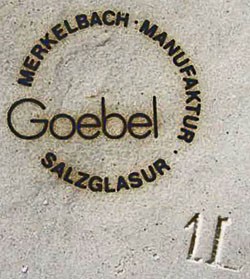 Ink stamp, dated between 1986 - 1988.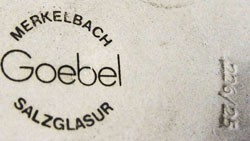 Ink stamp mark, dated circa 1987.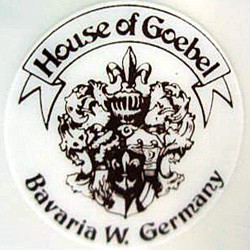 Ink stamp, date unknown, on stein, possibly not made in Hohr-Grenzhausen.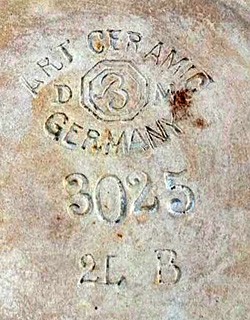 2 litre R.M.#3025 pitcher, (also another pitcher #3029) designed by Charlotte Krause, made & marked for a special (unknown) customer order.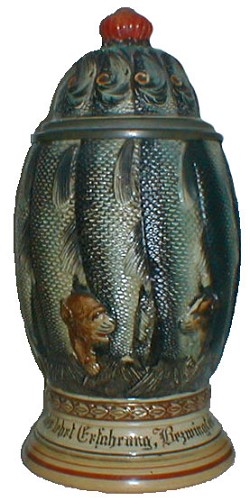 R. Merkelbach #1152 "Herring" stein (ECS431)
Punched mark in pewter lid of featured herring stein.  Rein Zinn. Reinhold Merkelbach. Grenzhausen.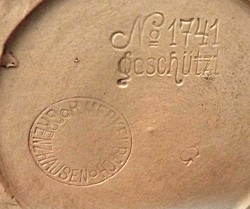 Impressed mark on Richard Riemerschmid designed #1741 dated 1913. This mark used between c.1900 - 1921.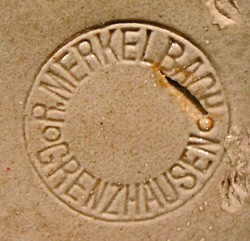 This mark used between c.1900 - 1921.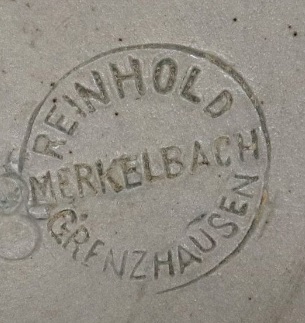 This mark most likely used between c.1900 - 1921.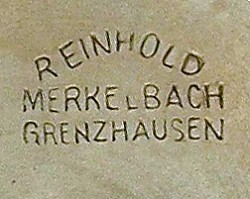 Impressed mark, dated between 1916 - 1936.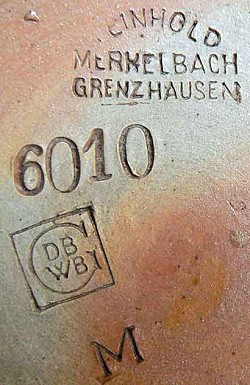 Impressed mark on #6010. 1916 - 1936, complete with the DB/WB-G approval mark for the trade association, "Dürerbund Werkbund Genossenschaft", an alliance between the Dürer Society and the German Work Federation, dated from 1914 to c.1925.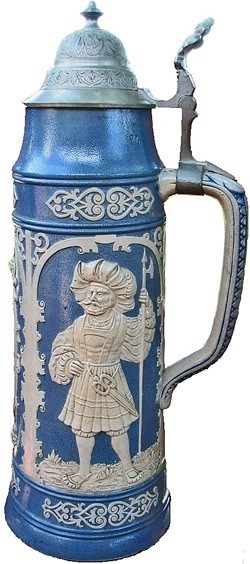 2.0L. R.M. #1378, Jasper style stein where only the background is painted and  given a salt glaze style finish.  
Impressed markon #626, dated after 1936 when Grenzhausen combined with Höhr to form Höhr Grenzhausen, and into the 1960's.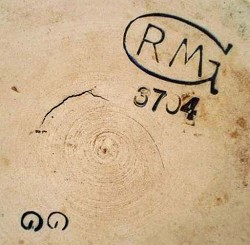 Impressed mark on #3704, dated between late 1930's - 1964.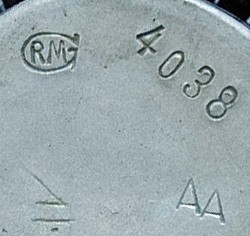 Impressed mark on #4038, dated between late 1930's - 1964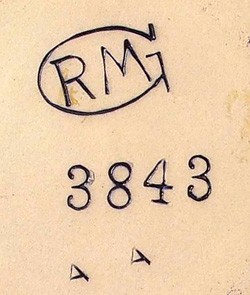 Impressed mark on #3843, on a 3rd Reich "Dienstzeit" stein, dated circa 1938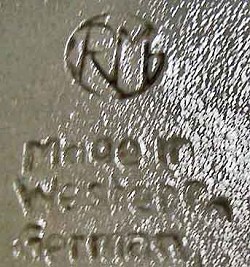 Impressed mark, dated between 1964 - 1968.
"Bee in the V" base mark from a "monk" character stein from Goebel's "Hummel" range, in this case possibly not made at the Grenzhausen factory.
A three legged Riemerschmid designed "Kanne", #1758, of either 2 Ltr. or 3.5 Ltr. especially made for Erhard Messmer, owner of the Castle in Burgstraße 3, Lauenstein nr. Ludwigsstadt, Bavaria. He renovated the castle as a hotel in 1896. it is often called the Fränkisch Thüringische Grenzwarte, the Franconian-Thuringian border look-out. A similarly designed 1/2 litre stein #1757 was also part of the set.      ×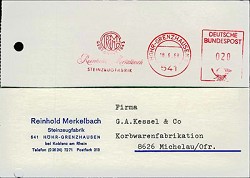 ** G.A.Kessel. Willow basket suppliers for cruet sets. Click to enlarge.( N.B. Close enlargement PRIOR to opening another picture!)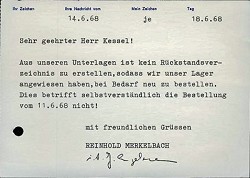 ** Letter explaining that "all our order arrears have been fulfilled and that our stores will place orders as and when required. This does not affect our outstanding order of the 11th June 1968". signed Judith Engelmann. Click to enlarge. (N.B. Close enlargement PRIOR to opening another picture!)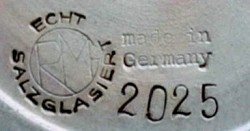 Impressed mark on #2025, dated between 1968 - 1971.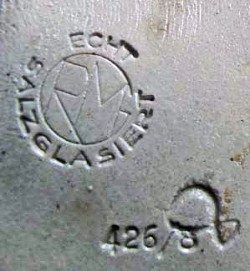 Impressed mark on 426/8, dated between 1968 - 1971.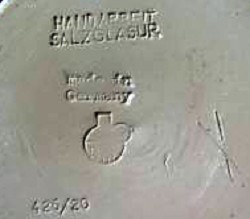 Impressed mark on 426/26, dated between 1970 - 1978.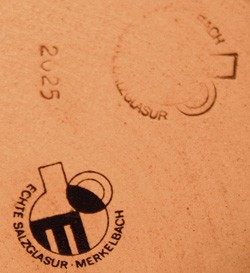 Basemarks on Reinhold Merkelbach #2025, with both Impressed and ink stamped versions of the same mark.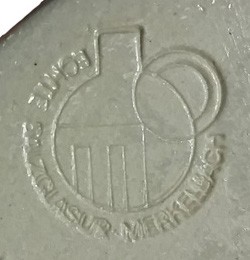 Better example of the mark immediately above. "Genuine Saltglazed Merkelbach"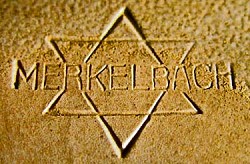 Impressed mark, dates thought to be sometime between  1912 - 1921, during the membership of Steinzeugwerke.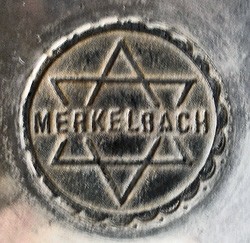 Brewer's Hexagram with upper case, sans serif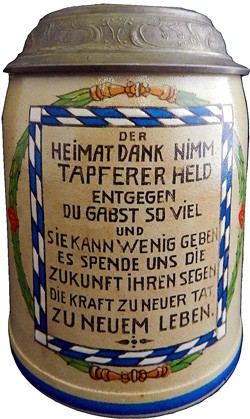 Der Heimat dank nimm tapferer Heldentgegen du gabst so viel und sie kann wenig geben es spende uns die Zukunst ihren Segen die Kraft zu neuer Tat zu neuem Leben. The homeland wishes to thank its brave hero because you gave so much and it can return so little, but (we) confer this future blessing the strength for new deeds and new life.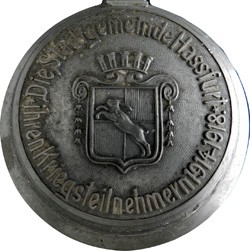 Die Stadtgemeinde Hassfurt Ihren Kriegsteilnehmern 1914-1918.  (From)the municipality of Hassfurt (for your) war participation 1914-1918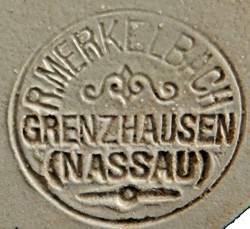 Impressed mark on above military commemorative stein. Mark dated 1909 - circa 1920.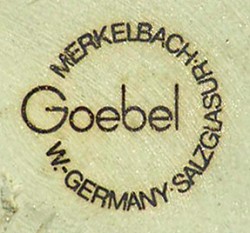 Ink stamp - dated between c.1981 - 1988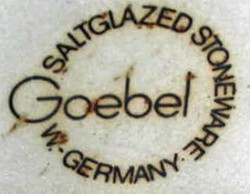 Ink stamp - dated between c.1981 - 1988. Export version.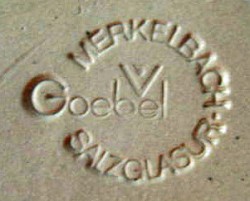 Impressed mark, dated circa 1978 N.B. The "Bee in the V" symbol denoting a product from their "Hummel" range.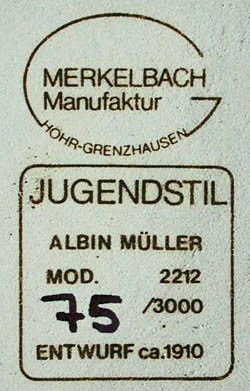 Ink stamp dated 1989 onward, showing No. 75 of a limited edition of 3000, of a reproduction of #2212, originally made in 1910, and designed by Albin Camillo Müller.