Munich, Hamburg & Nuremberg
Entwerfer & Künstler / Designer & Artist
Known dates: Born Laupheim, 29th April 1878. Imprisoned in Auschwitz 11th July 1942, died on or before the 8th May 1945.
He studied at the School of Applied Arts in Munich, 1894 - 1898. He was a freelance designer for sometime, but took up a teaching post in Hamburg in 1907.
He was forced to retire in 1933 by the, then current, regime. He did not survive imprisonment in Auschwitz.
Auschwitz was liberated by the Russians on 27th January 1945. Although Adler's actual date of death is unknown, the district court in Hamburg, sitting on the 1st March 1949, judged it to be 8th May 1945; which was coincidently also the last day of WWII.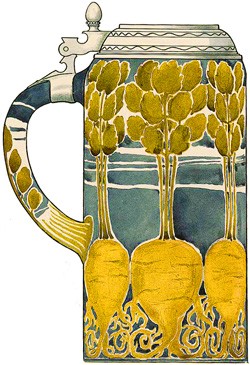 Above is a stein design attributed to Friedrich Adler. It was shown in "Kunst und Handwerk" 1898 - 1899, and also featured in the 1905 Reinhold Merkelbach catalogue. It is unknown whether any examples were made in or after 1905, as no mould number is known.