Franz (Jakob) Ringer
● Translation of a German article written by Franz Josef Ringer, a relative of Franz Jakob Ringer. ●
The subject of this short article is the life and work of the artist Franz Jakob Ringer, who descended originally from peasant manual labourers in the Upper Palatinate. The Munich family tree of the artist was short, as it was founded by the father of Franz Jakob, who had migrated to Munich from the country. Franz, as he became known, was born on October 7, 1865 in Munich, as the fourth of five children, of Josef Ringer, who was a master carpenter and manufacturer of Billiard tables. He was a child born from the second marriage of his father to Maria Barbara Fürst, the daughter of a Collector of Customs from Landau in der Pfalz, Palatinate. Of Josef's children, only one other brother, Alois, survived to grow up with Franz.
Franz Ringer was apprenticed to his father as a carpenter. Already during his technical education he had made his first artistic attempts as a wood and stone sculptor. In 1886, as a twenty-year-old, he travelled extensively through the Tyrol and Switzerland. In 1888, he visited Aachen, to be taught by the Munich sculptor Karl Krauß who was teaching modelling and embossing at the architectural section of the Technical College of Aachen. In Munich he worked for ten years as an assistant sculptor to Professor Josef von Kramer, who was both teacher and mentor to him. After that Ringer became self-employed, working in applied arts and crafts, with a workshop situated in Munich's Briennerstraße.
On New Year's Day, 1896 in Pullach im Isartal, Franz Ringer then aged thirty, married the twenty eight year old Adolfine Stefanie Immendörfer, (b.19/2/1867), daughter of Friedrich Immendörfer of Karlsruhe, a court officiant to Großherzog Friedrich I of Baden, and his wife Luise. In 1899, a son Eduard was born to the married couple. He was to be taught to become a church decorator. The family settled down in Schwabing, at the edge of Munich's artist quarter.
Franz Ringer worked as a graphic designer, painter and sculptor. His creative work reflects the end of historismus and the commencement of the modern era. He not only worked in the traditional styles of the Gothic, Renaissance, Baroque and Biedermeier periods, but also encompassed the contemporaneous style of "Jugenstil" (Art Nouveau). The following were created either by himself, or to his designs: Genre paintings and sculptures, statues, fountains, altars, grave crosses, wall friezes, murals, lead glazing, furniture, lamps, decorations, ceramics for the table, beer steins, guild symbols, May tree figures, shooting targets, wall clock faces, toys, invitations and greetings cards, book dedication inserts, book illustrations, festive gifts and finally gingerbread. Prestigious workshops that used his designs were, in Munich, the "Vereinigte Werkstätten für Kunst im Handwerk" (United Workshops for Arts in Crafts) of which he was a co-founder and an Associate, the carpenter's shop of August Moralt in Tölz, the ceramic's manufacturer Villeroy & Boch of Mettlach and the gingerbread bakery of Mathias Ebenböck of Munich. Pictures and reviews of a selection of his work can be found (see below) in "Kunst und Handwerk" (Arts and Crafts). One of his well-known works is the "Schäfflertanz" (Cooper's Dance) in the bell tower of Munich's town hall in the Marienplatz, which he created together with the sculptor Frey. Examples of his woodcraft are nine carved figures of eccentrics and celebrities of Munich, which were designed to be seated around the regulars' "Alt-München" table in the Ratskeller restaurant.
Seven oil paintings with genre scenes are still exhibited in the former restaurant of L. Betz, in the Bogenhausen district of Munich. Examples of his murals are to be found at the Palace of Baron Bissing at Georgenstraße 10, Schwabing, Munich, at the School of Music in Pullach, as well as the former school and the Prinz Heinrich Villa in Holzen. The Parisian World Fair of 1900 displayed his long case clocks and wall clocks, together with lamps, as well as a plastering frieze and portal. Ringer's art was appreciated well beyond Munich and Bavaria and today his paintings on glass and ceramics are collected internationally. With the inclusion into Thieme-Becker, the general encyclopaedia of visual artists, art scholars honoured the work of Franz Ringer.
On many occasions Ringer involved himself in service to the city. One instance in 1906 was when Munich was decorated festively for the Emperor's visit during the celebrations for the laying of the foundation stone of the Deutsche Museum. He was a member of the "Bayerischer Kunstgewerbeverein" (Bavarian Arts Association), and he conducted technical discussions during its meetings. On social occasions he contributed to the entertainment by playing comedy and giving humorous talks. His gift of decoration and his talent for exhilarating speeches, made the artist a popular organizer of celebrations and festivals, his Carnival and Salvator parties at Iberl's at Solln and at the Rabenwirt at Pullach, had regular audiences of happy people. He was occasionally seen on the stage of the "Münchner Künstlerhaus" (Munich's Artist's House) giving humorous performances.
On the 1st December 1917, Franz Ringer died, aged fifty two, in Munich. He lies in Munich's Westfriedhof, next to his mother, Barbara, who died aged ninety four, on the 15th July 1921. Franz's son Eduard was killed in World War I aged only eighteen. He lies in the German Soldier's Cemetery, Frasnoy, 59530, France. Franz's widow died, aged seventy seven, on the 1st December 1944.
References for the above article apertaining to the magazine "Kunst und Handwerk"
(Arts and Crafts): 1903/1904, 1912/1913-1, 1912/1913-2, 1912/1913-3, 1912/1913-4
Produced designs for:
Villeroy & Boch - Mettlach: #2903, #2911, #2912, #2934, #2935, #3000-#3005 inc., #3042, #3188-#3193 inc.
Merkelbach & Wick, & Reinemann & Lichtinger: #46, #49 - #59 inc.
Reinhold Merkelbach: #2161
Steinzeugwerke: #2097(1.0Ltr), #2098(1.0Ltr), #2157-2160(1.0Ltr), #2161(0.5Ltr), #2163-2166inc.(0.5Ltr), #2168-2171(0.5Ltr), #2172(1.0Ltr),
Wick-Werke:
Marzi & Remy: #6163.
Albert Jacob Thewalt: Brüder Thannhauser: Martin Pauson:
Meringer Kunsttopferei - Johann Lipp: Theodor Schmid: L. Ostermayr: Schellenberg's Kaisermagazin: Josef Reinemann / Reinemann & Lichtinger
Further references: Durban Durban 2 Stein Collectors Lowenstein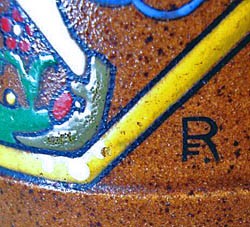 Artist's signature on the stein, featured right .
Villeroy & Boch - Mettlach #3004, dated 1905. N.B. Slight differences to the normal signature.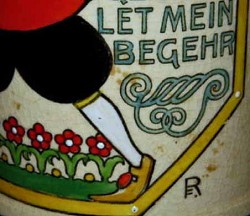 Illustration on Wick-Werke stein!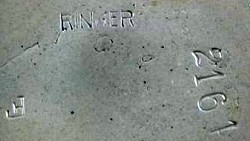 Reinhold Merkelbach #2161.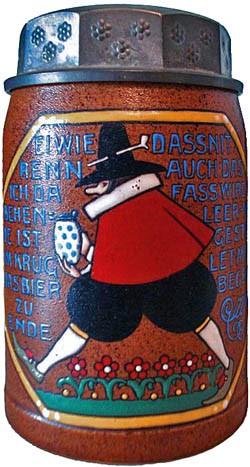 "Ei wie renn ich da behende ist im Krug das Bier zu Ende. Dass nit auch das Fass wird leer-vor gestillet mein Begehr".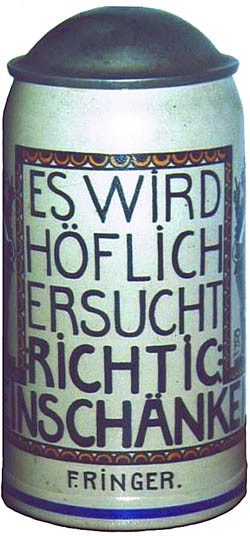 Franz Ringer's personal stein, currently in the possession of his great-nephew.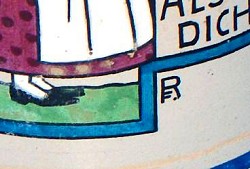 Merkelbach & Wick stein. The lid was engraved to "Haiflottille Eismeerfront 1942/43".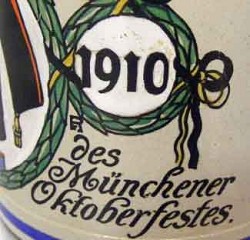 "Offizieller Festkrug" 100th Anniversary Octoberfest stein 1810 - 1910. Pewter by Brüder Thannhauser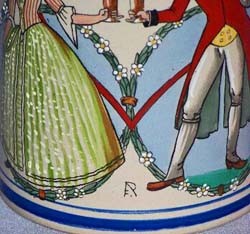 N.B. Slight differences to the normal signature.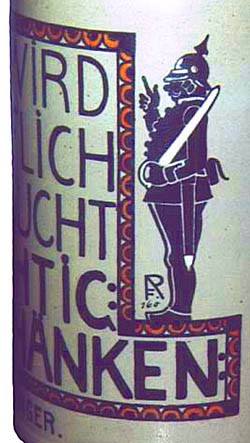 Franz Ringer's signature on the stein featured left. N.B. Slight differences to the normal signature.